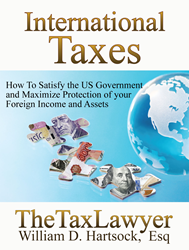 a lot of Americans are very worried about their foreign financial interests moving forward
San Diego, CA (PRWEB) October 28, 2014
The US government either currently has, or will soon have full access to the account information of any US person in any foreign financial institution, and those accounts are or will soon be subject to international tax regulations by the IRS.
It is critically important that US persons engaging in financial matters that cross international boundaries fully understand FBAR requirements, how and when to use the Offshore Voluntary Disclosure Program, how FATCA agreements will open their foreign financial accounts up to new levels of scrutiny and how to properly file income taxes here in the US while maximizing the benefits of foreign tax credits. These are the issues addressed in the new guide "International Taxes – How to satisfy the US government and maximize protection of your foreign income and assets" is now available on Amazon".
In an interconnected world where digital records cannot escape the light of day, the only protection is a well informed strategy that utilizes the appropriate and legal channels for legitimate tax avoidance. This new guide offers a high level overview and some in-depth discussion that aims to help US taxpayers with foreign financial interests become aware of the issues that will affect them moving forward.
Having specialized in foreign tax matters and various IRS voluntary disclosure programs since the early 1980's, Mr. Hartsock is sought after for his expertise in international tax law. "Right now there is a great deal of concern among taxpayers who have used legitimate tax avoidance strategies involving foreign financial accounts" said Mr. Hartsock. "If you follow the letter of the law including filing FBAR disclosures, correctly apply foreign tax credits and pay the appropriate taxes here in the US you really have nothing to worry about. The big question is, have you been following the letter of the law? And, if not, what is the best way for you to make it right before finding yourself in the crosshairs of an IRS investigation? This is really important because you can no longer hide and the penalties are severe."
"While International Tax is an enormous subject, this book is designed to help people understand their situation, the laws that affect them, provide answers to the most frequently asked questions and give the reader sound direction about how to begin to address the matter" said Mr. Hartsock.
Additional information regarding the handling of foreign tax matters can be found at http://TheTaxLawyer.com or http://www.irs.gov/Individuals/International-Taxpayers.