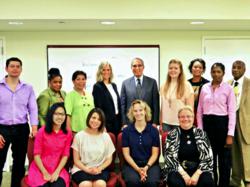 We are proud to partner with Dale Carnegie to offer this opportunity to our members.
NEW YORK, NY (PRWEB) July 03, 2013
The International Nurses Association (INA), a career development and networking organization for nursing professionals, recently held its first seminar in conjunction with Dale Carnegie.
The seminar marked the kick-off of INA's education networking initiative, and program coordinators and attendees alike hailed the event as a big success – and a big step for nurses seeking effective, meaningful professional growth.
A major part of the June 18th event's success is owed to INA's partnership with Dale Carnegie, said INA Managing Editor Dana Jarrett.
"Who else but the experts at Dale Carnegie would you want to help develop a long-term training program designed to improve the leadership skills of career-minded nurses?" asked Ms. Jarrett. "We're extremely proud that we could partner with Dale Carnegie to offer this opportunity to our members."
This first seminar, which focused on improving communication skills in the workplace, also earned overwhelmingly positive reviews from attendees.
"I really appreciated the seminar. It helped me identify what my personality style is and recognize other personalities and how to effectively interact with coworkers and managers because I can identify how they think," said Brandy Kiser, RN, an emergency room nurse at Laurence Hospital in Bronxville, New York. "It was fun, too, very interactive and lively! I would do it again!"
Other participants echoed the same positive response.
"Thank you so much INA for the vision of offering such an amazing seminar to your members," said Jessica Menjivar Velasco of Rockland Community College. "The Nurse Improvement Dale Carnegie Seminar was informative, eye opening, constructive, and so much fun!"
Communicating with Different Personality Styles
INA participants learned about the four personality styles most commonly found in the workplace and how to interact among them with the most positive possible results:
Driver – A self-starter who is decisive and direct and likes to control the work environment
Expressor – Often extroverted and people-oriented, the Expressor is generally optimistic, enthusiastic, and a good motivator
Amiable – Amiable co-workers are dependable, friendly and work to get along with co-workers
Analytical – People who fall into this category tend to be detail-oriented, conscientious, and good critical thinkers.
Seminar instructors pointed out that no one style is better or worse than the other, and that each has its own strengths and weaknesses. They then helped participants recognize their individual dominant style and identify the personality traits of others, thereby enabling them to effectively interact with a wide variety of personalities.
2013 INA Scholarship Award Recipient
After the seminar, INA presented the winner of the 2013 INA Scholarship Award: Amy Werner, RN, CEN, CPEN. Ms. Werner is a specialty care transport nurse with Hackensack University Medical Center in Bayville, NJ, and was given a $1,000 scholarship award.
Ms. Werner has demonstrated exceptional nursing skills and a high level of dedication to her patients and colleagues. She plans to apply the scholarship award to her pursuit of a master's degree in nursing at Excelsior College.
About the International Nurses Association
The International Nurses Association is a global networking organization for nursing professionals. Its membership includes outstanding nurses from all specialties and backgrounds who are working to improve the healthcare industry specifically and the worldwide quality of life in general.
For more information about the International Nurses Association, visit http://www.inanurse.com online.