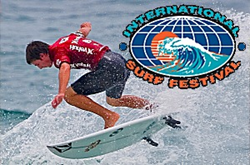 We are so fortunate to have our beautiful coastal area within a convenient drive so that surfers and beach lovers can enjoy the summer months along the shore."
Torrance, CA (PRWEB) August 04, 2016
Brad Schmett, of Brad Schmett Real Estate Group and Keller Williams Realty today announced that the upcoming International Surf Festival scheduled for August 4-7, 2016 at South Bay beaches will be a big draw for luxury home buyers who also love coastal living and surfing competitions. Presented by BEACHSPORT.Org, the Chambers of Commerce and Cities of Hermosa Beach, Manhattan Beach, Redondo Beach, Torrance, Los Angeles County Fire Department and Department of Beaches and Harbors, the event is an annual surf lover's dream.
With a schedule that gets underway at 9 AM on Thursday, August 4, and runs into Sunday afternoon, August 7 the festival includes volleyball tournaments, the Los Angeles County Lifeguard Medal of Valor Dinner, International Body Surfing Championship, the Sandcastle Design Contest, and much more. Of course the main events are the Surfing Championships at the Manhattan Beach Pier, South Side but there is plenty of fun and variety for everyone at this incredible surfside festival.
Schmett commented, "Surfing is a Southern California tradition that is time honored. This is arguably one of the best attended events of the year and my team and I are looking forward to showing off our amazing inventory of Inland Empire homes. We are so fortunate to have our beautiful coastal area within a convenient drive so that surfers and beach lovers can enjoy the summer months along the shore."
Some of the other events include paddleboard races and youth focused activities, with plenty of vendors to assure the best in favorite foods and beverages. Expect to see world champion surfers from around the globe competing for the 55th consecutive year.
For more information on the International Surf Festival visit http://www.surffestival.org.
To find out more about investing in Inland Empire real estate visit http://Inlandempire.bradschmettgroup.com.
About Luxury Homes by Keller Williams: Luxury Homes by Keller Williams – Inland Empire is an exclusive, elite and sophisticated group of real estate consultants raising the bar for service in the Inland Empire real estate market.