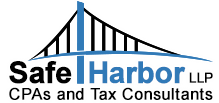 San Francisco is a gateway to the international world.
San Francisco, CA (PRWEB) November 21, 2013
Safe Harbor LLP (http://www.safeharborcpa.com/), one of San Francisco's top International tax CPA firms, is proud to welcome Melissa Gan, CPA, M.A., to the firm, as the company expands its practice in international taxation issues for both corporations and individuals in the San Francisco Bay Area and throughout California. Ms. Gan brings the firm a wealth of expert experience with a background in international tax compliance, tax accounting, and transfer pricing issues.
"San Francisco is a gateway to the international world," commented Chun Wong, CPA, managing partner at Safe Harbor LLP. "We are so fortunate to have Melissa join our CPA firm to bolster the international tax services we can offer individuals and businesses in today's global market."
About Melissa Gan, a Seasoned International Tax Expert
Ms. Gan joins Safe Harbor LLP from Lam Research Corporation of Fremont, California, where she served as Senior Tax Manager. In that position, she advised on issues pertaining to legacy Novellus international tax compliance, tax accounting and transfer pricing. In addition, she worked to support Novellus foreign entity tax audit(s).
Prior to Lam Research, Ms. Gan was senior tax manager at Novellus Systems, Inc., of San Jose, California. There, she was head of the corporate international tax department responsible for global tax planning strategies and research, and structuring of international transactions to minimize global income taxes. Her responsibilities included the review of all international tax compliance returns, SEC disclosures and SOX 404 processes.
For clients in the San Francisco Bay Area as well as throughout California, Ms. Gan brings a wealth of expertise in international tax issues for both individuals and corporations who have exposure to the tax laws of the United States as well as of foreign countries, ranging from the United Kingdom, Europe, Japan, China and other countries around the globe.
IRS Circular 230 Notice
The Internal Revenue Service requires Safe Harbor LLP to inform the reader that any tax advice contained in this correspondence cannot be used for the purpose of avoiding penalties under the Internal Revenue Code or for promoting, marketing or recommending to another party any transaction or matter addressed.
About Safe Harbor LLP – a Professional CPA Firm in San Francisco
Safe Harbor LLP is a CPA firm that specializes in accounting and tax services for individuals and businesses throughout the San Francisco Bay Area and greater California. Safe Harbor CPAs helps both individuals and businesses with tax preparation, IRS audit defense, and audited financial statements. The firm prides itself on friendly yet professional service and utilizes state-of-the-art Internet technology to provide quality customer service.
Safe Harbor CPA
http://www.safeharborcpa.com
Tel. 415.742.4249