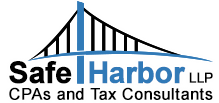 The San Francisco Bay Area is a cultural crossroads; hence our focus on International tax issues.
San Francisco, CA (PRWEB) December 26, 2013
Safe Harbor LLP (http://www.safeharborcpa.com/), one of the San Francisco Bay Area's top CPA firms for International Tax, announces strong growth and interest in the firm's International tax services following up on recent hires in the international tax area. Recently, the firm expanded its accountant staff to meet growing demand for international tax services among Bay Area residents.
"The San Francisco Bay Area is a cultural crossroads," commented Chun Wong, CPA, managing partner at Safe Harbor LLP. "Many San Francisco Bay Area residents and businesses have business interests and assets not only in the United States but in China, Taiwan, Germany, the United Kingdom and other countries around the world. Hence there is a growing interest in our international tax services."
For information on the company's international tax services, go to
http://www.safeharborcpa.com/international-tax/ where one can find information on the company's international tax planning and service, including services for permanent US residents and foreign property or business assets.
Safe Harbor LLP's Growing Commitment to International Tax
As part of the firm's growing commitment to international tax issues, the company has recently announced new CPA staff with expertise in international and foreign tax. International tax expert, Melissa Gan, joined the firm and brings a wealth of knowledge about how US tax laws and compliance issues might impact those who have business assets in Asia and/or Europe. Common queries on international tax include questions regarding the ownership of businesses and business assets in China, Taiwan, or Europe, where and how to account for profits across countries, and transfer pricing impacts tax liabilities between foreign subsidiaries and their US counterparts. In addition, employees who work abroad and/or have income from abroad are often concerned about international tax liabilities.
IRS Circular 230 Notice
The Internal Revenue Service requires Safe Harbor LLP to inform the reader that any tax advice contained in this correspondence cannot be used for the purpose of avoiding penalties under the Internal Revenue Code or for promoting, marketing or recommending to another party any transaction or matter addressed.
About Safe Harbor LLP – a Professional CPA Firm in San Francisco
Safe Harbor LLP is a CPA firm that specializes in accounting and tax services for individuals and businesses throughout the San Francisco Bay Area and greater California. Safe Harbor CPAs helps both individuals and businesses with tax preparation, IRS audit defense, and audited financial statements. The firm prides itself on friendly yet professional service and utilizes state-of-the-art Internet technology to provide quality customer service.
Safe Harbor CPA
http://www.safeharborcpa.com
Tel. 415.742.4249