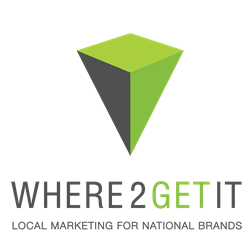 Finally, today after perfecting our technology for years, our doors open to partners everywhere.
Anaheim, CA (PRWEB) January 20, 2015
To help agencies all over the world leverage the power of local, on January 20th, 2015, Where2GetIt opens up its platform to agencies nationally and internationally. The first technology to be offered to partners will be the Where2GetIt Store Locator and Local Pages solution all wrapped within the Brandify Platform, an enterprise level analytics tool measuring businesses online to offline effectiveness through a field-tested benchmarking BrandScore.
Founder and CEO, Manish Patel states of the announcement, "We are thrilled to have NAB Digital be part of the Where2GetIt mission of leveraging location technology, transforming local and connecting online consumers to offline locations." NAB Digital and Habari Media, a leading provider of digital marketing services in South Africa, will extend their digital retail advertising solutions to include Where2GetIt's Store Locator and Local Pages technology as part of their offering.
The Where2GetIt Locator offers the best in class geocoding and mapping technology, delivering consumers accurate localized content such as precise driving directions across desktop and mobile. A powerful CMS system will deliver NAB Digital consistent, current and accurate local content across the locator and local pages. Marc de Plessis, General Manager for NAB Digital, states, "With our exclusive partners in the USA, Where2GetIt, we're able to create a unique local page for each and every retail store which turbo charges that businesses visibility to search engines."
Where2GetIt plans on leveraging its technology to more international markets that are looking to create hyper-localized connections. "As the premier selection to enterprise fortune 500 brands looking to harness the power of local both nationally and internationally, Where2GetIt has been able to reach consumer globally since our inception," says Patel. "Finally, today after perfecting our technology for years, our doors open to partners everywhere."
About Where2GetIt
Where2GetIt was founded by CEO Manish Patel in 1997 and has since grown into an industry-leading provider of location-based digital marketing solutions powering more than 500 brands. Serving more than 4,500,000 brick and mortar locations, Where2GetIt has channel strength that reaches millions of consumers around the world. Patel has lead Where2GetIt in developing local marketing solutions that include the Brandify Platform, scalable Local SEO, local advertising, mobile-local technologies and local-social marketing tools. For more information, visit http://www.where2getit.com.
About NAB Digital
NAB Digital provides clients the opportunity to target consumers geographically, in locally relevant communities. For more information on NAB Digital visit nab.co.za or follow http://www.twitter.com/NAB_SA.