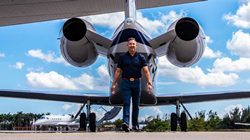 Grant is a successful entrepreneur who has a truly global message
MIAMI (PRWEB) March 27, 2019
Social media sensation and New York Times bestselling author, Grant Cardone, just announced an exclusive World Tour visiting 9 different countries across 3 continents later this year. While all locations are still subject to change, the preliminary itinerary has Grant Cardone visiting Singapore, Malaysia, Australia, New Zealand, Russia, Kazakhstan, UAE, UK, and Italy.
"We are very excited to be touring Grant Cardone to Australia, New Zealand, Singapore and Malaysia starting in May this year. We have been touring the world's most successful, entrepreneurs, educators, global leaders for 25 years, working with the likes of Tony Robbins, Sir Richard Branson, Bill Clinton, Tom Brady, Gary Vaynerchuk, Sara Blakely and many more. I feel Grant is a successful entrepreneur who has a truly global message. We are excited to have Grant be a part of our National Achievers Congress 25yr Anniversary Tour kicking off in Australasia." – Michael Lane, Director of Success Resources
The purpose of the tour is to introduce Cardone's innovative business training programs to a wider audience, connect with his legions of fans outside the USA across his social media following of nearly 10 million, and present exclusive two-day sales and marketing training workshops. These ultra-exclusive events are geared for business owners, salespeople, and entrepreneurs who want to increase sales, boost their marketing efforts and scale their business.
The interactive experience will include training sessions, live question and answer opportunities, role play, and hands-on curriculum designed to show individuals how to build their business and income.
"Our past Boot Camps in the United States have been SOLD-OUT EVENTS. So many people have expressed interest in having a similar event in their home country that we are holding several 10X Business Boot Camps throughout the world in 2019 due to demand. These two-day workshops will give you insights and knowledge to grow your business. I will be presenting material that grew my business massively and shows participants how to do it for themselves with actionable and instantly implementable methods and strategies every minute of the conference." — Grant Cardone
Grant Cardone has developed a multi-million-dollar online sales training platform called Cardone University which provides sales organizations, including Fortune 500 companies, with sales training, sales motivation, and sales solutions. This proprietary material will be made available to 10X Business Boot Camp attendees.
Stay tuned for more details on Grant Cardone's upcoming world tour at http://www.grantcardone.com
About Grant Cardone: Grant Cardone is a New York Times bestselling author, international social media influencer, the number one sales trainer in the world, and an internationally renowned speaker on leadership, real estate, investing, entrepreneurship, social media, and finance. He owns five companies with annual revenues exceeding $100 million.  He is a regular guest on Fox News, Fox Business, CNBC, and MSNBC. He also is a contributing writer for Forbes, Success Magazine, Business Insider, Entrepreneur.com and the Huffington Post.