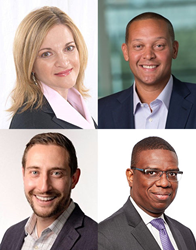 PITTSBURGH (PRWEB) December 11, 2018
The International Consortium of Minority Cybersecurity Professionals (ICMCP), the leading destination for issues related to cybersecurity career and industry developments impacting minority cybersecurity professionals, today announced the appointment of four new members to its Strategic Advisory Board.
"The under-participation by large segments of our society represents a loss of opportunity for individuals, a loss of talent in the workforce, and a loss of creativity in shaping the future of cybersecurity," said Julian Waits, Chairman of the Board at ICMCP. "Not only is it a fundamental equity issue, but it also threatens our global economic viability as a nation."
The new members of the Strategic Advisory Board, who will serve in their capacity as individuals, are:
Shelley Westman - Partner/Principal at EY – In this role, Ms. Westman is responsible for leading the southeast region demand for cyber security. Prior to joining EY in 2017, Ms. Westman was Senior Vice President, Protegrity and owned Alliances & Security Services. She spent 18 years at IBM in a wide variety of roles. Her last role at IBM was Vice President Operations & Strategic Initiatives, IBM Security where she focused on overall operations as well as key transformational projects and strategic initiatives across IBM Security. As part of this role, she also led the University Programs for IBM Security and was involved in several IBM boards and committees on hiring and skills. Ms. Westman was the founder of "WISE" - Women in Security Excelling, an IBM group devoted to advancing women in cybersecurity.
Aaron Hughes - Vice President of Information Security and Deputy CISO at Capital One - In this role, Mr. Hughes is responsible for leading a diverse team and setting the strategic direction for security across all the Capital One lines of business with a portfolio that includes Card, Retail and Commercial Banking, Financial Services, Enterprise IT, and Digital Products. He is the former Deputy Assistant Secretary of Defense for Cyber Policy. In this position Mr. Hughes was responsible for the development and implementation of cyber policies, strategies, plans, and operational oversight for all the Department of Defense efforts in cyberspace. In addition to his full-time civilian employment, Mr. Hughes is a Colonel (sel.) in the Air National Guard where he serves as the State of Maryland Cyberspace Operations Director focusing on the Cyber Operations mission for the State, USAF, and USCYBERCOM.
Gleb Reznik, Deputy Chief Information Security Officer at Synchrony – In this role, Mr. Reznik is responsible for executing the information security program to enable rapid digital transformation, while protecting corporate assets. Prior to joining Synchrony in 2018, Mr. Reznik was responsible for establishing and leading the cloud security strategy and enhancing the capabilities to safeguard Capital One's cloud deployments. Mr. Reznik has spent most of his career developing and implementing cost effective information security practices, secure infrastructure solutions, and corporate security policies for Fortune 500 companies.
Michael Palmer - Vice President and Chief Information Security Officer at The National Football League – In this role, Mr. Palmer governs the league's cyber security strategy, policies and programs while protecting its brand, intellectual property and assets. He also manages the NFL IT Strategy and Governance team including the IT Project Management office. Mr. Palmer's background includes 20+ years of broad cyber security, and enterprise risk management experience including deep specialization in corporate technology infrastructure, across multiple industries including finance, insurance, technology and retail. He is a committee chair of the NFL's Diversity Council, a governing body that works to provide increased opportunities and exposure to women and diverse professionals within the NFL.
"ICMCP continues to gain momentum in building a pipeline of cyber workers in both the public and private sectors," said Aric K. Perminter, President of ICMCP. "I believe unconscious bias to be one of the greatest ills limiting the acceptance of women and minorities by many corporations. A core component of ICMCP's mission is to raise corporate awareness to eradicate this issue."
These industry leaders join a prestigious strategic advisory board of Security Executives from leading companies including Automatic Data Processing (ADP), Rapid7, Intel, Wells Fargo, Verizon, DocuSign, Cisco, Symantec, Microsoft, Carnegie Mellon, Google, Security Innovation, and ISC(2).
About ICMCP
The International Consortium of Minority Cybersecurity Professionals (ICMCP) is a non-profit organization launched in 2014 to help bridge the 'great cyber divide' that results from the ongoing underrepresentation of minorities and women in the fast-growing field of cyber security. The ICMCP tackles this 'divide' with scholarship opportunities, technical training programs, innovative outreach, mentoring and networking programs. The ICMCP targets minority and women cyber security professionals worldwide and promotes academic and technical excellence in our tradecraft. Our management team consists of the board of directors, a larger advisory board and officers of ICMCP, working closely with the executive director. In addition, our regional chapters will be instrumental in advising our executive director and promulgating our mission globally.