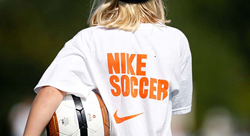 The increased interest by international parents for sport and language programs has been growing every year.
San Rafael, CA (PRWEB) January 26, 2015
USSC, Nike Sports Camps, and ELS have joined forces to offer combined Nike Tennis and ELS programs at Stanford University and the University of San Diego, in California. They have also teamed up with Curry College and Florida International University in Miami, Florida. Additionally, ELS will expand its sport and language offering at the San Domenico School in California by adding a combined program for Nike Tennis, Nike Basketball and Nike Soccer Camps. Both the Curry and FIU locations will offer these combined programs, providing an extensive array of sports including Nike Tennis, Nike Soccer, Nike Basketball and Nike Volleyball camps. The joint programs are appropriate for all English and sport skill levels.
"The increased interest by international parents for sport and language programs has been growing every year," says Colleen Bertiglia Director of International Camp Programs for Nike Sports Camps. "Our expansion into new sites is a direct result of this interest. The benefit of the two programs, which are linked by the common theme of sports, is an important differentiator versus other language study programs and offers something unique to the campers."
The ELS language curriculum is built around the conversation of sports. Sport idioms, videos and on-field training are used to help the kids make connections in their English grammar and conversation. Since partnering with Nike Sports Camps, ELS has noticed the benefits of coupling language with sport. "Students start to learn vocabulary and verb conjugation quickly because they're motivated to do so; they'll need it out there on the field. Plus, the sports camp environment is fun - you can see the kids actively participating in their English education every minute of the day," says Leanne Benoist, Director of Special Programs at ELS Language Centers.
USSC has also seen campers who participate in these combined programs become increasingly social and communicate more effectively with peers both on and off the playing field at camp. US Sports began their relationship with ELS in 2012. Since its inception, the partnership has proven to be both an effective an attractive option for international athletes and their families. In three years, Nike Sport and ELS Language Centers have grown from 3 locations to 10, offering over 25 programs. During the same time, international campers attending Nike Sports Camps have grown 86% to over 2,800 in 2014.
About US Sports Camps, Inc.
US Sports Camps (USSC), headquartered in San Rafael, California, is America's largest sports camp network and the licensed operator of Nike Sports Camps. Over 72,000 kids attended a US Sports Camp program in 2014. The company has offered summer camps since 1975 with the same mission that defines it today: to shape a lifelong enjoyment of athletics through high quality sports education and skill enhancement. In 2012, USSC partnered with ELS Language Centers to offer high-quality language and Nike Sports Camp programs to international students. Players, Coaches, Parents and others interested in the 2015 Nike Sport and Language Camps can visit http://www.ussportscamps.com/international/nike/ or call 1-800-NIKE-CAMP