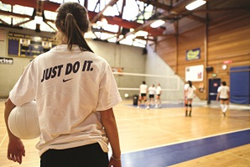 Our combined Nike Sport and ELS Language programs offer campers a perfect balance between sport training and English Language classes.
San Rafael, CA (PRWEB) January 19, 2017
The camp line-up will include a one, two or three week Nike Volleyball or Soccer Academy program starting July 16 through August 4, 2017. In addition to volleyball and/or soccer training, the all-inclusive program includes daily ELS language classes for campers that are looking to improve their English and sport skills, as well as evening and weekend activities.
"Our combined Nike Sport and ELS Language programs offer campers a perfect balance between sport training and English Language classes, provided by some of the world's best collegiate and professional coaches in the U.S.," states Colleen Bertiglia, Director of International Camp programs. "If an international athlete is interested in training in a sport, and improving their English, there is simply no better program available." International campers live and train with other American athletes, offering them the chance to practice their English and participate in specially designed ELS language classes developed for the sport enthusiast.
Cate School is conveniently located about an hour from the Los Angeles airport. Its idyllic location overlooking the Pacific Ocean, provides international campers exceptional residential accommodations and training facilities. Campers staying multiple weeks also enjoy fun weekend trips to the beach, Santa Barbara and other fun activities while at camp!
The Nike Sport and Language Camps were first introduced in 2011 as a specialized offering for international campers looking to improve their conversational English skills. While compulsory English is taught in many schools around the world, the material is often basic, and classes aren't conducive for actual communication. The Nike Sport and ELS Language programs, set out to solve this, by creating a fun and interactive environment where international kids can passionately engage in sports and English and improve their skills for both, at the same time. Since the introduction in 2011, over 15,000 international students have participated.
The new camp programs at the Cate School will mark the ninth location where Nike Sport and Language camps are offered. Other locations include camps in Boston, MA, Miami, FL, San Francisco, San Diego, Malibu, Maine and New Jersey. Nike Tennis, Basketball, Soccer, Volleyball and Swim programs are all offered.
Registration for summer 2017 is open now. International campers, parents, and coaches interested in 2017 Nike Sport and ELS Camp programs can get more information at http://www.ussportscamps.com/nikeinternational or call 1-800-645-3226 or email international(at)ussportscamps(dot)com.
About US Sports Camps
US Sports Camps (USSC), headquartered in San Rafael, California, is America's largest sports camp network and the licensed operator of Nike Sports Camps. The company has offered camps since 1975 with the same mission that defines it today: to shape a lifelong enjoyment of athletics through high quality sports education and skill enhancement.