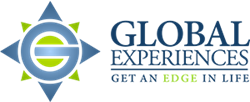 "Salisbury University and Dr. Dudley-Eshbach are shining a bright light on the benefits and impacts of international internships," said Emily Merson, President and CEO of Global Experiences.
Annapolis, MD (PRWEB) November 17, 2014
Global Experiences, one of the leading international internship organizations, recognizes and commends Dr. Janet Dudley-Eshbach, President of Salisbury University (SU), for taking the opportunity to see firsthand Salisbury students actively engaging in career development activities organized through a unique campus partnership.
Since 2009, SU has worked with Global Experiences to offer semester-long study abroad programs based around internships. Dudley-Eshbach is the first President from a U.S. institution to show support for international education and workforce development by visiting Global Experiences' students, educators, and employers in cities overseas in Italy and Spain that host participants.
During Dr. Dudley-Eshbach's 14-year tenure at Salisbury University, she has been an advocate of international education as a way of fostering an appreciation of different cultures. She earned her own Ph.D. from El Colegio de México and believes study abroad experiences are life-changing. Her travels to Europe this semester specifically involved witnessing the interactions and customized career development opportunities provided to the students participating in the international internships, as well as engaging in discussions with educators and employers abroad.
"To help our students thrive in today's increasingly global economy, it is important that we provide opportunities that will expose them to other cultures and environments and equip them with skills to be successful in their future careers," said Dr. Dudley-Eshbach. "Professional internships and study abroad experiences are among the cornerstones of an SU education, so we are thrilled to offer both through our partnership with Global Experiences. Clearly, these programs are preparing our students for working with multinational companies and in the global workforce."
This year, approximately 21 million students will be enrolled in American colleges and universities, and of that 5.5% will be graduating and entering the workforce. Graduates are seeking an "edge" in the competitive job market and institutions are filling that need with global internship opportunities. The percentage of students who participate in study abroad programs during their college years has more than tripled in the past two decades. Presidents and leaders at American colleges and universities are increasingly integrating campus internationalization as it relates to curriculum or numbers of students involved with advanced learning and career development opportunities overseas.
Since Salisbury University's partnership with Global Experiences began with the program in Florence for students majoring in communication arts five years ago, the preference for participating in internships with employers in cities abroad compared to the general study abroad programs has grown steadily. In 2015 there will be 5 locations offering full-credit, semester-long, internship-based programs for SU students. They may study communications in Florence and Milan, Italy; the liberal arts in Barcelona, Spain; community health in Dublin, Ireland; and a variety of fields in Paris, France.
Students who want to better position themselves post-graduation are increasingly choosing to participate in customized international programs that offer internships in their fields with organizations such as Global Experiences during their college years. The president's visit highlights the increasing priority to connect degrees to global professional opportunities and the achievable mission of making it accessible to all through credit and financial aid options.
"Salisbury University and Dr. Dudley-Eshbach are shining a bright light on the benefits and impacts of international internships," said Emily Merson, President and CEO of Global Experiences. "President Dudley-Eshbach was a pleasure to host in Barcelona, Spain and Florence, Italy. It was an honor to have her visit our programs on-site and we thank Salisbury University for its continued partnership. We appreciate her interest in visiting students, educators, and employers and her advocacy for building connections abroad. We look forward to playing a helpful role in the career development of students at Salisbury and other universities across the nation."
Global Experiences provides customized career development services for college students. The international internship organization has relationships with employers in 27 countries and 13 years of placing interns. One of the most trusted organizations in the industry, Global Experiences has over 4,400 alumni.
About Global Experiences
Global Experiences is an international internship organization based in Annapolis Maryland, with 28 staff in the US and overseas. Established in 2001 by Emily Merson and Stephen Reilly, a 1996 graduate of Salisbury University, Global Experiences has grown to serve dozens of US universities and thousands of students from the US, Canada, UK, and Australia as they seek international professional experience. For more information, visit http://www.GlobalExperiences.com or call (877) 546-6212.