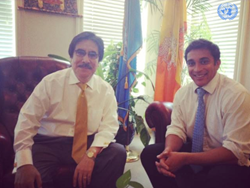 We need a new economic paradigm that recognizes the parity between the three pillars of sustainable development. Social, economic and environmental well-being are indivisible. Together they define gross global happiness
New York, NY (PRWEB) March 24, 2015
In 2011, Illien Global Public Benefit Corporation launched a multi-year campaign to move happiness to the top of the international policy agenda forever.
In 2012, Illien Global approached the United Nations about creating the new global day, the International Day of Happiness, now celebrated worldwide every March 20.
With the support and leadership of ambassadors from all over the world – including the Kingdom of Bhutan, which measures Gross National Happiness instead of GDP – Illien Global was able to gain the endorsement of the President of the General Assembly and United Nations Secretary-General Ban Ki-Moon to bring a new UN resolution to the General Assembly that would create the new global day, the International Day of Happiness.
Illien Global management and senior UN personnel then drafted the new resolution and picked March 20th (the vernal equinox and first day of Spring) for the date, and successfully campaigned to get the resolution adopted by consensus of all 193 countries, establishing the new global day, the International Day of Happiness.
The new UN resolution, UN 66/281 "International Day of Happiness," recognizes "the pursuit of happiness is a fundamental human goal and the relevance of happiness and well-being as universal goals and aspirations in the lives of human beings around the world and the importance of their recognition in public policy objectives."
UN resolution 66/281 "International Day of Happiness" also recognizes "the need for a more inclusive, equitable and balanced approach to economic growth that promotes sustainable development, poverty eradication, happiness and the well-being of all peoples."
Speaking at the first High Level Meeting on Happiness and Well-being: Defining a New Economic Paradigm held at United Nations headquarters, United Nations Secretary General Ban Ki-Moon said, "We need a new economic paradigm that recognizes the parity between the three pillars of sustainable development. Social, economic and environmental well-being are indivisible. Together they define gross global happiness".
Why Illien Global created the International Day of Happiness, brought the new global day to the United Nations, drafted the resolution, campaigned to get the new global day adopted, and supported its expansion into a worldwide celebration:
Illien Global got its start in happiness over thirty years ago when one of its first social impact nonprofits, Illien Adoptions International, began its mission to bring happiness to orphans and abandoned children worldwide by finding them permanent families and providing humanitarian assistance programs focused on women and children. Since 1982, Illien Global has worked with children, orphanages, families, and governments in over 40 countries.
Illien Global's thirty-year exposure to children living in (and/or orphaned due to) extreme poverty, war, famine, conflict, disease and other difficult situations has led the company to an important set of conclusions about the human condition. Human happiness, and the fundamental humanitarian responsibility of people, communities, companies, and governments, is the ethos that defines Illien Global Public Benefit Corporation's mission and values.
Over the past few decades, Illien Global's focus has evolved and expanded into new areas such as sustainable economic development, policy strategy, and international finance. Illien Global is increasingly promoting happiness through solutions that seek to address both immediate and systemic challenges, and are interdisciplinary in their approach.
The International Day of Happiness was created with the idea that all people smile in the same language and share a universal desire and right to happiness. The International Day of Happiness was designed to promote and celebrate these common values shared by all members of the human family and to further empower the growing global conversation around happiness economics, happiness as a business approach and public policy objective, and happiness for all as a goal of sustainable development.
And that's exactly what has happened this year on a phenomenal scale.
As mentioned in the Chairman and CEO Jayme Illien's statement at happinesday.org: "We are grateful and inspired by all the campaigns going on around the world in celebration of the 3rd International Day of Happiness."
CEO Jayme Illien looks forward to next year's International Day of Happiness with even greater participation by all people, families, communities, companies, and governments. Jayme especially appreciates the prospect of more involvement on behalf of the private sector and fortune companies, as well as local and community stores and establishments, and every day people in their homes spending time with family, working on projects that make them happy, giving or doing community service, sharing or helping out a friend, neighbor or stranger, or just sitting around enjoying the present and doing what makes one happy. The mission of Illien Global is happiness for all.