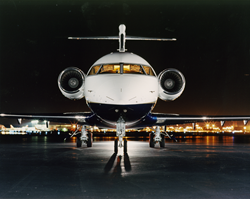 the demand on private jets for faster connectivity, integrated cabin management systems, and on board theaters has increased significantly over the past three years
New York, New York (PRWEB) January 22, 2016
Time is one of life's most precious commodities. Who doesn't want to save it, preserve it, make the most of it, and with some of life's most memorable moments, even try to stop it? Very few tangible items offer you the opportunity to be transported from one place to another in such an efficient, productive, well-spent span of time as a private jet. A management team can engage in open, confidential dialogue while en route to a meeting or a CEO may catch up on rest prior to getting home to family: affording them the opportunity to enjoy quality time with loved ones feeling fresh and relaxed. An extended family of ten can spend memorable time together while traveling to their intended destination, or a patient who is ill with a compromised immune system can travel without the health risks associated with being in large crowds. Need to make a morning meeting in LA and be back in time for a charity event at 8PM in Manhattan? No problem. The added bonus of flying privately is you don't have to worry about your suit, dress or toiletries getting lost.
Private jets are such a valuable business tool and an essential component to using time wisely, that it's no surprise that in the United States alone, of the nearly twenty three million flight hours logged, 2/3 are flown for business purposes. (Source: General Aviation Manufacturers Association) As Warren Buffet has underscored when touting the benefits of private aviation, the use of a private jet is the sign of a well-run company. (Source: No Plane No Gain) Clearly, businesses and families that take time as seriously as businesses do have all gotten the memo.
At International Jet Interiors, the demand on private jets for faster connectivity, integrated cabin management systems, on board theaters, and greater band width to accommodate multiple passengers when using Wi-Fi, has increased significantly over the last three years, as the reliance on private aviation continues to rise. The ability to call, text, email, upload, and tag a friend in a photo at 40,000 ft is a reality when you own a private jet. So is controlling on board entertainment, cabin management systems and sound with just a touch to your iPhone. According to Eric H. Roth, President of International Jet Interiors, the prominent brokers and aircraft owners he deals with understand the value of having these capabilities and necessities on board when it comes to buying and selling used aircraft. Rarely has he been asked to bid on a completion in the past 12 months that did not include the options for cabin management upgrades outlined above. Depending on the scope of the project, the time frame for a private jet to have a state-of-the-art entertainment package and a cabin management system installed, along with any other modifications and on board upgrades, ranges anywhere from 10-18 weeks. Then its wheels in the well and ready for takeoff.
What's trending in 2016 on private jets? The first quarter at International Jet Interiors is filled with refurbishments that are custom, couture designs combined with smart onboard technology. Clients continue to want the combination of luxurious details and cabin management at their fingertips. Intelligently addressing the need to utilize time effectively while flying and simultaneously creating a chic, comfortable "at home" feel for clients is what IJI is renowned for. Eric H. Roth shares: "Our clients are among the shrewdest, smartest individuals when it comes to investments, time management and smart business acumen. They trust my insight in the private jet market, my decades-long relationships, and benefit from my intimate knowledge as I guide them in the decision making process. I have steered clients away from investing in something on board that I know is not going to serve them well in terms of return on investment and their short and long terms plans for an aircraft."
Additionally, 2016 is shaping up to be the year of "fleet branding" for some owners. IJI has clients that are on their 3rd or 4th aircraft, and who want to create consistency and branding among their private jets. International Jet Interiors has been brought in to design, fabricate and oversee these luxurious completions from start to finish. "Our goal," states Roth, "continues to be extraordinary service, the finest product and unparalleled pricing." Clearly, given projections, we are striking a nerve and setting the standard for what should be expected in private aviation-and those in the know are responding in resounding agreement."
About International Jet Interiors:
As the leading boutique aircraft completion center, clients trust Eric H. Roth and the team at International Jet Interiors to guide them in making intelligent investment decisions onboard their Boeing, Global Express, Gulfstream, Challenger, Falcon, Embraer, Beechcraft and Sikorsky private jets and helicopters. Featured in publications such a Forbes, Time, The New York Times, GQ and multiple times on CNBC, International Jet Interiors has earned the distinction of being among the best in private aviation. As a testament to the exclusivity of their clientele, you won't find a sign outside letting you know you've reached the impressive IJI facility. Instead, your pilot will know their runway coordinates for landing, or, you'll confirm your private meeting while en route "out east" on Long Island, as their hangar is conveniently nestled in Ronkonkoma, between Manhattan and the Hamptons. Inquires may be sent to info(at)intljet(dot)com and calls directed to 631.737.5900.
Life is short and time is limited. Spend it wisely and well. You are invited to visit International Jet Interior's website at http://www.intljet.com and Experience Something Extraordinary®.