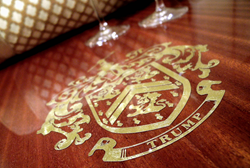 If it's got the Trump name on it, it's got to be the Best of the Best.
Ronkonkoma, NY (PRWEB) March 20, 2015
If you own a private jet, chances are you know him, have heard of him, or will be working with him in the future. Meet Eric Roth, President of International Jet Interiors in Ronkonkoma, New York.
Top aircraft brokers, private jet owners and industry leaders around the world rely on him for his accurate and intimate knowledge of the private jet market. Prior to an aircraft acquisition, forward thinking leaders and aircraft owners trust Roth's insight to advise them on completion costs and how to invest wisely. Additionally, Roth advises clients on the latest technology and entertainment upgrades, as well as how to work creatively with downtime and scheduling.
In an industry cluttered with cookie cutter conglomerates, Roth's boutique completion center stands out from the crowd. Available 24hrs a day, with the agility and keen understanding that time is money in the aviation business, Roth and his expert IJI team have raised the bar another 40,000 feet in private aviation.
So, just who is on the client list? That's private. Maintaining discretion among his esteemed clientele is a number one priority; another reason the discerning choose him. Roth's humble nature, savvy insight and his thick New York accent are all endearing to those who know him.
Occasionally, a special client will share photos and details of their International Jet Interior's luxury completion. On Tuesday night, March 24, 2015, at 10P ET/PT, CNBC's Secret Lives of the Super Rich will share exclusive footage from a completion recently delivered to Mr. Donald Trump.
The segment includes interviews with Mr. Roth, and permission granted for rare and exclusive onboard access inside Mr. Trump's S-76 helicopter.
International Jet Interiors
International Jet Interiors is a leading boutique completion center, located in Ronkonkoma, New York. Facility capabilities include design, engineering, entertainment, cabinetry, upholstery, finish, installation, avionics, airframe maintenance, and engine work. An FAA and EASA approved completion center with extensive experience onboard Gulfstream, Boeing, Challenger, Legacy, Falcon, Hawker and Sikorsky aircraft.
Please visit http://www.intljet.com for more information or contact IJI at 631.737.5900.