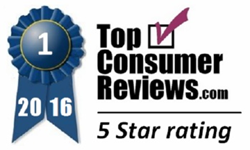 Net Nanny has long been the most well-known name in the Internet Filter marketplace... (they are) the hands-down winner for Internet Filters in 2016.
Overland Park, KS (PRWEB) December 07, 2016
TopConsumerReviews.com recently gave a best-in-class 5 star rating to Net Nanny, a leader among Internet Filter services.
As the internet expands, so does the amount of content that users may find objectionable. Internet filters are the best way to make sure that pornographic, violent, or other offensive websites and content never make it to the screen. Many families use these filters to protect their children from seeing disturbing images, especially while using the home computer to do homework or even while playing seemingly-innocent games. There are a variety of services offering internet filters, and customers should review the available features carefully to ensure that the service they choose will be well-suited for their household's typical internet usage.
"Net Nanny has long been the most well-known name in the Internet Filter marketplace," explained Brian Dolezal of TopConsumerReviews.com, LLC. "As a five-time winner of PC Magazine's Editor's Choice Award, Net Nanny sets the standard for effective protection online. Fully customizable, Net Nanny's filtration options include not just websites but also online gaming and gambling sites, chat rooms, and hate sites. Parents can log in from any computer in the world to view activity logs and change any desired settings. Installation and configuration is simple, and automatic updates mean that users don't have to make any further installations or upgrades to keep their internet filter current. Net Nanny is the hands-down winner for Internet Filters in 2016."
To find out more about Net Nanny and other providers of Internet Filters, including reviews and comparison rankings, please visit the Internet Filters category of TopConsumerReviews.com at http://www.topconsumerreviews.com/internetfilters/.
About Net Nanny
ContentWatch, makers of the Net Nanny product line of internet security solutions for computers, tablets and mobile devices, is committed to providing web filtering and parental control solutions for families across the globe. Today, Net Nanny is used in over 135 countries and is available in English, Spanish, Italian, French German, Turkish and Japanese. Net Nanny has been designed to meet the unique needs of families and is the leading Internet filter in the marketplace, always evolving with the latest technologies, Web 2.0, and the constant dangers that plague anyone who uses the web.
About TopConsumerReviews.com
TopConsumerReviews.com, LLC is a leading provider of independent reviews and rankings of hundreds of consumer products and services. From Internet Filters to Bunk Beds and Learn to Read Programs, TopConsumerReviews.com delivers in-depth product evaluations in order to make purchasing decisions easier.