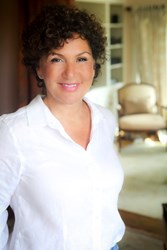 Online marketing is tough to master, and there are plenty of strategies, methods and techniques -- a few of which really work, but most of which frankly don't.
Boston, MA (PRWEB) September 17, 2013
PR expert Robin Samora, the founder and principal of Boston-based Robin Samora Inc., has been invited to join the no-cost Internet Marketing All-Stars Telesummit on September 23-27, 2013.
Via three calls per day over the course of the 5-day Telesummit (10:00am, 1:00pm and 3:00pm – all times EDT), Samora will join 14 leading marketing, sales and business development leaders as part of an exclusive live business training event that will share secrets and advice on how to achieve 6 and 7-figure results.
Topics that Samora will cover include:

How PR turns professionals into coveted and in-demand expert All-Stars
The critical importance of including PR in a marketing plan
Essential, little-known and no-cost resources for generating buzz getting national media exposure
How to take PR to the next level and use expert status to grow to epic proportions
"It's widely understood that professionals who want to take their business to an elite level must use online marketing methods to reach and expand their target markets," commented Samora. "However, online marketing is tough to master, and there are plenty of strategies, methods and techniques -- a few of which really work, but most of which frankly don't. Professionals who join me and 14 of my fellow experts during this exclusive live training event will discover the methods that we personally used to dramatically boost our profits, and achieve a level of sustained `all-star' success."
Professionals can claim their complimentary pass to the Internet Marketing All-Stars Telesummit at http://internetmarketingallstarstelesummit.com/?ap_id=RobinSamora. They can also browse the bios of all 15 All-Stars, including:
Bola Olonisakin, the Telesummit's host and the creative head of Gtech Designs, a leading web design and Internet marketing firm (gtechdesigns.com)
Mara Glazer, an internationally-renowned social media strategist and "buzzworthy biz babe" pioneer (maraglazer.com)
Alicia Rittenhouse, a transformational online business coach and trainer for women (alirittenhouse.com)
For more information or media inquiries, contact Robin Samora at (617) 921-3448 or Robin(at)RobinSamoraInc(dot)com.
About Robin Samora Inc.
Telling a story is personal. Sharing it is an art. Technology makes it global. Robin Samora Inc., a Boston based PR, branding and promotions firm blends all three to take its clients' businesses and brands to the next level. With clients like Comcast, WBZ-TV, Fortune 500 marketing consultant Nancy Michaels, leading social media strategist Mara Glazer, and a roster of authors, entrepreneurs, and experts nationwide, the firm prides itself on being a "Promotional GPS" that takes its clients' brands where they want to go to be seen, heard, engaged and remembered. With over two decades of experience, the firm is as comfortable on major media highways as it is on out-of-the-way niche back roads.
Learn more at http://www.RobinSamoraInc.com.