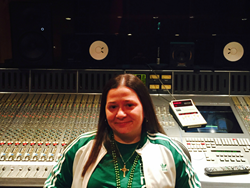 The second assistant role offers an excellent way for audio engineering students to get their foot in the door. They gain important studio experience, build up their practical knowledge, and are able to expand their professional networks.
New York, NY (PRWEB) April 21, 2015
Nicole Dos Santos, a 2012 graduate of SAE Institute New York's Audio Technology Program, is now supervising an innovative new "second assistant" program in her job as Intern Manager at Premium Studios in Manhattan. By working as second assistants, aspiring studio professionals gain access to actual recording sessions and have the opportunity to build relationships with the recording industry's top engineers, mixers, and producers.
"For audio technology students who aren't yet qualified to be assistant engineers, the second assistant role offers an excellent way to get your foot in the door," says Dos Santos. "Even though they're unpaid, second assistants gain important studio experience, build up their practical knowledge, and are able to expand their professional networks."
A native of Staten Island, NY, Dos Santos had an unquenchable passion for music when she was growing up: she took piano lessons, wrote songs with her sister, and spent most of her waking hours listening to the radio and studying the hits that she heard. Following her graduation from New Dorp High School, she decided to pursue a career in audio technology, and after looking at programs around the country, she concluded that SAE's Manhattan campus was the best fit for her.
"SAE NYC was affordable, convenient, and amazing," says Dos Santos. "When I first toured their facilities and saw their equipment, I felt like a kid in a candy store. The school's curriculum covered all aspects of audio technology and prepared me well for the real world. Their boards, mics, speakers, and digital audio workstations were the same equipment that's used in a professional workplace, so that gave me and other SAE grads a great advantage when we started our job searches."
Once she graduated from SAE in 2012, Dos Santos immediately began working at Premier Studios, which is located in New York's Times Square area. The studio is one of the most in-demand rooms in the city, and its clients include media companies such as HBO, VH1, NBC, and Dreamworks as well as a wide range of top recording artists - including Rihanna, Coldplay, The Fray, Lil' Wayne, Justin Bieber, Wiz Khalifa, Stargate, The Roots, John Legend, FloRida, Chris Brown, Ludacris, Madonna, Mariah Carey, Evanescence, My Morning Jacket, Notorious B.I.G, and Alicia Keys.
Dos Santos finds that SAE grads tend to do very well once they enter the job market, and that they excel at a very fast pace.
"If you've gone through the SAE program, you're aware of what to expect in a real studio environment," says Dos Santos. "The grads who I've hired as interns are professional, ready to work, and eager to learn. It's a work ethic that's instilled in them by SAE."
In terms of what she's looking for when choosing interns, Dos Santos will only consider those who go above and beyond the call of duty.
"I need people who are capable of putting in long hours, day in and day out, and who have dedicated themselves to their profession before everything else," says Dos Santos. "For SAE students and grads who are determined to pursue this path, I recommend that they take advantage of everything that SAE has to offer. Use the school's studios as much as possible while you have access to them. Most importantly, when you graduate, be prepared to work hard! SAE taught me that being an audio technology pro isn't a career, it's a lifestyle. The top engineers, mixers, and producers spend 13 to 15 hours each day and sometimes more developing and improving their craft. To make it, you have to give 100%, because 99% won't cut it."
About SAE:
SAE Institute provides aspiring creative media professionals with a foundation of practical theory and valuable hands-on training in their chosen areas of concentration. Under the guidance of our faculty, which is comprised of working industry professionals, students gain the essential experience they need for entry-level jobs in the entertainment business. Our students are supported in their job searches by SAE's international network of alumni, many of whom are leaders in the music, film, game arts, and live performance arenas. We offer programs in audio technology across our seven US campuses, along with a music business program at select locations, all fully accredited and focused on preparing students for employment when they graduate. Bachelor's Degree programs in Animation, Audio, Film, Game Art & Graphic Design are available at the two locations of Ex'pression College, which is owned and operated by SAE Institute Group, Inc. SAE Institute Group, Inc. is a part of Navitas LTD. Learn more at USA.sae.edu.
About Navitas:
Navitas is an Australian global education leader, providing pre-university and university programs, English language courses, migrant education and settlement services, creative media education, student recruitment, professional development, and corporate training services to more than 80,000 students across a network of over 100 colleges and campuses in 27 countries. Learn more at Navitas.com.