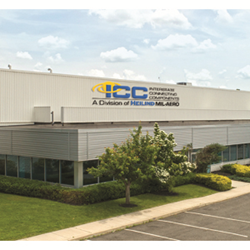 LUMBERTON, N.J. (PRWEB) August 15, 2018
Interstate Connecting Components (ICC), a division of Heilind Mil-Aero and a leading distributor of military-aerospace connectors and accessories worldwide, officially announced its move to a new larger facility in Lumberton, New Jersey earlier this month.
Located just a short distance from its previous location in Lumberton, the new ICC headquarters features state-of-the-art infrastructure including a larger production facility, distribution center and corporate office. The additional space will support the company's expanding value-added assembly operations, which is offered for several of its MIL-SPEC connector lines. It will also accommodate ICC's growing inventory, which currently includes items from over 150 manufacturers.
"The move is a reflection of our growth as a company," said Scott Jacobs, Vice President, Interstate Connecting Components. "Combined with our recent AS9100D quality management certification, our new headquarters will allow us to better meet the mission-critical requirements of our customers."
Visit the Interstate Connecting Components website for more information, including the company's new address.
About Interstate Connecting Components (ICC)
A division of Heilind Electronics, North America's largest interconnect distributor, Interstate Connecting Components (http://www.connecticc.com) is an AS9100D-certified value-added distributor for the entire spectrum of electronic connectors, fiber optic connectors, backshells, tools, identification solutions and connector contacts. ICC specializes in the military-aerospace market and offers T'DA® 2-day assembly on D38999, M28840 and many other MIL-SPEC connector lines from leading manufacturers like Amphenol Aerospace, Conesys and Glenair. Follow ICC on Facebook at facebook.com/connecticc and on Twitter at twitter.com/connecticc.