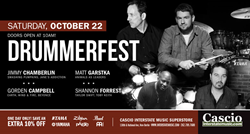 DrummerFest has continually featured a high caliber of national touring and recording artists from around the world since 2001.
New Berlin, WI (PRWEB) October 09, 2016
Milwaukee area music superstore Cascio Interstate Music, 13819 W. National Avenue in New Berlin, will hold its 16th annual DrummerFest on Saturday, October 22, 2016 starting at 11:30 am and ending at 6 pm, with doors opening at 10 am. This free Milwaukee area music live performance and drum clinic event is open to the public. DrummerFest had continually featured a high caliber of national touring and recording artists from around the world since 2001, and regional drummers always look forward to this major event.
The lineup for 2016 features Jimmy Chamberlin (Smashing Pumpkins, Jimmy Chamberlin Complex, Zwan, Skysaw, Jane's Addiction), Shannon Forrest (Taylor Swift, Carrie Underwood, Toby Keith, Faith Hill, Rascal Flatts, TOTO), Matt Garstka ((Animals as Leaders, Tosin Abasi, Javier Reyes) and Gorden Campbell (Earth Wind & Fire, Phillip Bailey, Rascal Flatts, George Duke, Beyonce, Jessica Simpson). Read more at http://www.interstatemusic.com/drummerfest
Performance times are as follows, yet subject to change:
11:30 - 12:45 - Shannon Forrest
1:00 - 2:15 - Jimmy Chamberlin
2:30 - 3:45 - Gorden Campbell
4:00 - 5:15 - Matt Garstka
5:30 - 5:45 - All-star Jam
DrummerFest includes free prizes for attendees, along with photo and autograph opportunities with these drum stars, special amazing drum deals, and factory representative demos, new products and more. Arrive early for the best possible seating at this popular Milwaukee drumming event. For the day of DrummerFest extra product offers will be available on major drum brands Tama, Zildjian, Pearl, Yamaha, Paiste and Meinl.
JIMMY CHAMBERLIN
As the propulsive engine driving the Smashing Pumpkins, Jimmy Chamberlin earned respect as one of the most popular, influential drummers of the '90s. His extraordinarily quick hands, furious snare rolls, and crackling rimshots recalled the likes of Ian Paice and Dennis Chambers, and yet equally important to the band was his tasteful, understated playing on their quieter numbers. Presented by Zildjian, Sakae, Vic Firth and Remo. http://www.drummerworld.com/drummers/Jimmy_Chamberlin.html
MATT GARSTKA
Matt Garstka is regarded as one of the key progressive drummers of his generation. He graduated from Berklee College of Music in 2011 and moved to Los Angeles shortly thereafter to further his musical pursuits. Soon after moving to LA he joined the instrumental band Animals as Leaders and has been touring with them internationally. Presented by Tama, Meinl, Vic Firth and Remo. https://mattgarstka.com/
GORDEN CAMPBELL
Gorden Campbell has worked with a wide variety of artists, including George Duke, Jessica Simpson, Earth, Wind & Fire, Mary J. Blige, Beyoncé, Kelly Rowland, Whitney Houston, Gerald Albright, Bobby Lyle, Doc Powell, Eric Benét, Kenny Lattimore, Rahsaan Patterson, Tyrese, Avant, Faith Evans, Lalah Hathaway and others. He recently toured with En Vogue, James Ingram, Peabo Bryson & Marilyn McCoo. Presented by Yamaha, Zildjian and Vater. http://www.drummerworld.com/drummers/Gorden_Campbell.html
SHANNON FORREST
If you listen to Country Radio, you're hearing Shannon Forrest's drum sound every day. He has played on more Top 10 hits than any drummer in Nashville for seven years running, earning a reputation as "the hit-maker." He's played with top artists like Brooks & Dunn, Taylor Swift, Rascal Flatts, Carrie Underwood, Toby Keith, Faith Hill, Sugarland, LeAnn Rimes, Willie Nelson, Alabama, Trisha Yearwood, Blake Shelton, Martina McBride, and many more. Presented by Pearl and Paiste. http://www.drummerworld.com/drummers/Shannon_Forrest.html
Celebrating 70 years in the Music Business in 2016, Cascio Interstate Music ranks in the top 15 nationally among musical instrument retailers, and is also one of the nation's top drum retailers. The Company markets over 75,000 musical instruments and accessories to musicians of all ages in a number of ways including via their website, http://www.interstatemusic.com, and through their SuperStore, located in the Milwaukee suburb of New Berlin, Wisconsin, as well as their musician-staffed information center at (800) 462-2263. Cascio also provides products to music educators at over 100,000 schools and universities worldwide. The Company started in 1946 in Milwaukee, Wisconsin and proudly remains independently owned, operated and run by musicians.