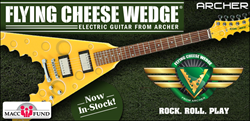 ... we are proud to have designed this original unique guitar which appeals to this diehard and proud audience.
New Berlin, WI (PRWEB) December 05, 2014
Cascio Interstate Music has a great gift idea for any Green Bay fan with Archer's Flying Cheese Wedge® Electric Guitar. It's a fun, unique, performance-tested electric guitar with a design focused on Wisconsin's sports teams. Not just a novelty item, this is a fully functional instrument for musicians performing live or recording in the studio. Introduced last year, this guitar looks and plays great, whether on stage, in the studio, or even just hanging on the wall as a very definite and noticeable conversation piece. It's a functional, unique work of art, symbolizing what is important to fans and players across the USA.
"We are very pleased with the response of our Archer Flying Cheese Wedge Guitar from Green Bay fans throughout the nation," said Michael Houser, CEO of Cascio Interstate Music. "We have found customers purchasing to display in their homes, offices, recreation rooms and to play in bands onstage. This football team has an incredible following throughout the world, and we are proud to have designed this original unique guitar which appeals to this diehard and proud audience." Houser added, "This guitar is sold at fine retailers for $499.95 online including Amazon, Kohls.com, Interstatemusic.com and in the Packers Pro Shop in Green Bay, Wisconsin."
The Flying Cheese Wedge® is also available to view and purchase at Cascio's Milwaukee music store at 13819 W. National Ave. in New Berlin, Wisconsin. A portion of the proceeds from Cheese Wedge Guitar sales go to childhood cancer research, through the MACC Fund (Midwest Athletes Against Childhood Cancer).
The Flying Cheese Wedge was featured December 1st on the TV Show "Packers Live," hosted by Packers Hall of Famer Larry McCarren, broadcast live from Lambeau Field's Legends Club. The weekly show airs on eight affiliates including Milwaukee's WTMJ-TV and Green Bay's WGBA-TV. Frank Hermans, Green Bay entertainer and owner of Let Me Be Frank Productions, played the Cheese Wedge on the broadcast with his band "3rd & Short." Frank held it up and stated, "I got it at the Packers Pro Shop and it's for the 'musically inclined,' perfect for the holiday season!"
Each Flying Cheese Wedge Electric Guitar is a one-of-a-kind, limited edition, hand-built unit. Every guitar is assembled with the latest electronics and constructed with an Alder wood body, plus a Maple neck with Rosewood fretboard. The Flying Cheese Wedge is designed in Milwaukee by musicians and Archer Guitar technicians who have over 68 years of experience in the music industry. An extra-value pack is included, with a tuner, Swiss Picks, guitar strap and cable.
Other Christmas gift ideas for musicians from Cascio Interstate this year include Martin's Little Martin LX1 Acoustic Guitar, with a short 23" scale and a solid spruce top for only $299, as well as a Fender Squier® electric guitar pack, their Affinity Series Stratocaster® Package with a compact 10-watt Frontman 10G amp, all for only $199.99.
Gift ideas for drummers of all ages include Pearl's always popular 5-piece Export Drum Set with hardware (cymbals not included) for $649, available in five color choices. Ludwig offers a new compact-sized drum set this year with their "Breakbeats by Questlove" 4-piece Shell Pack for $399.99, available in two finishes. Gretsch's Taylor Hawkins Snare Drum for $199 is a 6.5"x14" sized drum with a black nickel-plated steel shell. Cajons are a great addition to any drummer's arsenal of tools, and Meinl has a "regular" sized Headliner Birch model for $89, as well as a compact Mini Birch Cajon for only $29.99, small enough to play on one's lap.
Milwaukee-based Archer Guitars, USA offers acoustic, electric, and electric bass guitars for musicians worldwide. Archer also offers Artist Signature models including singer-songwriter Josh Rouse's Jazz Archtop Model, and the K Sulton Signature Bass Guitar for journeyman and session bassist Kasim Sulton of Todd Rundgren's touring band as well as Utopia. Archer also designed a Utopia guitar concept for Todd Rundgren which he plays in concert. Archer Guitars are sold nationwide in music retailers as well as some of the nations's leading full-line retailers. Archer Guitar Brands is a division of Cascio Interstate Music, located in the Milwaukee area with a distribution center in Waukesha, Wisconsin. Cascio is the nation's 16th largest musical instrument retailer providing instruments and accessories to musicians of all ages, including music educators and professionals worldwide. Over 100,000 musical products are marketed nationwide via catalogs and online, and locally at their SuperStore in New Berlin.