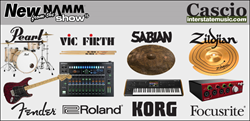 As a full-line retailer of musical instruments, Cascio Interstate always carries the latest products to offer musicians nationwide.
New Berlin, WI (PRWEB) February 27, 2015
The music industry's annual NAMM Show was held at the Anaheim Convention Center January 22 - 25, combining four days of business, education, music and celebrities along with numerous new musical product announcements. Cascio Interstate Music's team of buyers/merchandisers was on-hand to coordinate plans with vendors. As a full-line retailer of musical instruments, Cascio Interstate always carries the latest products to offer musicians nationwide. All products listed below are available from http://www.interstatemusic.com.

Pearl Drums has introduced Limited Edition Wood/Fiberglass Kits with three traditionally sized, 3-piece shell packs. These new Wood/Fiberglass drums' 7-ply Poplar/Kapur shell features an inner layer of Fiberglass that is hand-applied and lacquered through a painstakingly precise process.
The new Limited Edition Pearl Chad Smith Tricolon Free-floating Signature Snare Drum features three interchangeable 3mm rolled shell rings housed in Pearl's Free Floating snare frame; two of brass, one of steel. This allows for multiple tonal combinations when stacked in different orders and total resonant freedom from attachment hardware.
Zildjian Cymbals has expanded its fx line of cymbals with new 10" and 12" fx Spiral Stackers, 8" and 10" fx Oriental Trash China Cymbals, and 7.5" fx Volcano Cup Zil-Bel. In addition, renowned jazz drummer Adam Nussbaum helped develop the new 20" K Constantinople Renaissance Ride cymbal. Zildjian's new 21" K Custom Organic Ride was designed in conjunction with drummer/educator Pat Petrillo. And new 20" & 22" K Kerope Medium Ride cymbals give more stick definition and volume, designed in response to drummer requests.
Vic Firth announced several new products including American Classic® 5A and 5B Barrel drumsticks, barrel-tipped versions of their two most popular models. The Split Brush Retractable Wire Brush features two separate rows of wire for a unique and varied weighting of sound. Vic Firth's Steve Smith Tala Wand TW4 creates a dense and deep tone that occurs at a dynamic level below that of drumsticks, but above the level of the pre-existing Tala Wand. Additional new products from Vic Firth include Universal Practice Tips, VicGloves, High Tension Drum Key and 18" Bass Drum Mute.
Sabian has introduced their Big and Ugly series, a collection of six unique medium-thin Ride cymbals. They are big, dark, loose and dynamic – but most importantly, they are huge fun to play. And Sabian's new B8X Cymbals replace the best-selling B8, featuring fully hammered bells and adjusted profiles.
Tama's new 2015 lineup includes Superstar Classic, 100% maple shell drum sets (sold in shell pack configuration) which draw on the Superstar line of the past. Its classic TAMA T-shape badge and streamlined low-mass single lugs point to the simpler state of art of the 70's, while the ingenious Star-Mount system and new thinner gauge 100% maple shells eclipse anything in its class.
Tama's RoadPro Hardware gets an upgrade with some of the features from their STAR hardware line, such as a wider tripod base and the "Glide-Tite Grip Joint". And new Tama snare drums include the SLP Limited Edition Big Black Steel 8" x 14"; SLP Dynamic Bronze 5.5" x 14", SLP Classic Maple 5.5" x 14", Star Solid Zebrawood 6" x 14", and Metalworks 5.5" x 10".
Fender introduced The Limited Edition Sandblasted Ash series in Stratocaster, Telecaster, P-Bass and J-Bass models, featuring an alluringly unusual finish treatment. After the transparent finish (in beautiful Sapphire Blue or Crimson Red) is applied, the ash body is literally sandblasted, leaving the surface grain pattern wonderfully textured with parallel ruts and grooves in which the black grain-filler coat shows beneath the color finish coat. It's a truly beautiful look!
Korg USA has introduced the most powerful version of its flagship KRONOS synthesizer, featuring the 9-engine structure from previous versions, with many improvements to overall functionality and sound capability, along with a new look. The SGX piano engine now includes a 9GB Berlin grand with dedicated soft pedal samples. KRONOS is available in 61, 73, and 88-key models.
Roland introduced the JD-Xi, a powerful compact synth with onboard pattern sequencer and vocal FX. Equipped with 37 mini keys, this instrument delivers fat, warm analog bass and lead tones with ample controls for hands-on tweaking, plus polyphonic PCM essentials like pads, strings, brass, and more. Create impressive loops in a flash and explore expressive vocal textures with the gooseneck mic, Vocoder, and AutoPitch.
Home studio enthusiasts will appreciate Focusrite's new Clarett series of audio interfaces, which take advantage of Thunderbolt™ technology, found on newer Macs and PCs. The Clarett range features brand new transformer-modeled preamps, crystal clear conversion, and negligible interface latency. Four models are in this line – 2Pre (10 In/4 Out), 4Pre (18 In/8 Out), 8Pre (18 In/20 Out) and 8Pre X (26 In/28 Out).
For electronic musicians, Roland's new MX-1 Mix Performer brings together synths, drum machines, loops, DAW tracks, and more into a single performance-optimized mixing instrument, the "nerve center" of any electronic music rig. It combines elements of an 18-channel mixer, control surface, audio interface, and step-based effector.
Cascio Interstate Music ranks in the top 15 nationally among musical instrument retailers as well as being one of the nation's top drum retailers. Cascio provides musical instruments and accessories to musicians of all ages, including music educators at over 100,000 schools and universities, as well as music professionals worldwide. The company started in 1946 in Milwaukee, Wisconsin.
Today, over 100,000 musical products are marketed nationwide via catalogs and online, and locally at their SuperStore in New Berlin, Wisconsin. For Wisconsin musicians, their Milwaukee music store offers private music lessons, free educational clinics, musical instrument rentals, musical instrument and electronic repair, and more. Cascio designs and manufactures their own company-designed brands of guitars, drums and band instruments – Archer, Union and Ravel – for consumers, major online retailers and schools worldwide.