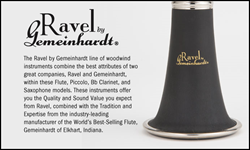 Our Ravel partnership with Gemeinhardt of Elkhart, Indiana, brings together the largest manufacturer of flutes and piccolos in the world merged with the value of the Ravel brand ...
New Berlin, WI (PRWEB) February 23, 2015
Cascio Interstate Music and their Ravel brand has partnered with Gemeinhardt Musical Instruments of Elkhart, Indiana to offer quality band instruments at a great value. And value pricing is what every school music program, student, parent, or musician is searching for when investing in a musical instrument. Band instruments currently offered in this new Ravel by Gemeinhardt product line are a Flute, Piccolo, Bb Clarinet, along with Alto and Tenor Saxophones.
"Our Ravel partnership with Gemeinhardt of Elkhart, Indiana, brings together the largest manufacturer of flutes and piccolos in the world merged with the value of the Ravel brand," states Michael Houser, Cascio Interstate CEO. "The Gemeinhardt brand is perfectly suited for all levels from student through the professional musician, and is widely used and recommended by Band Directors in schools across the country."
Ravel Musical Instruments is a division of Cascio Interstate Music, one of the nation's top musical instrument retailers. Ravel's company name pays homage to renowned French Impressionist composer, Maurice Ravel. Ravel not only inspires musicians to play, but also offers high quality instruments with great tonal qualities and advanced features, while remaining affordable for all. The Ravel by Gemeinhardt line is the newest offering in the Ravel lineup.
Houser adds, "The Ravel by Gemeinhardt instruments are meticulously engineered and inspected to Gemeinhardt's exacting standards, just as they have been since 1928 when German instrument maker Kurt Gemeinhardt founded the company, and brought this quality to the United States."
202SP Flute • This flute features two tiers of professional magnehelic testing, an objective measure to ensure that all pads seal well against the tone holes, and re-adjusting to perfection as needed. This guarantees excellent and reliable playability for any musician. The 202SP is a plateau model (closed hole) flute, featuring triple coated, silver-plated head, body, foot and keys; offset G key & "Y" arms; professional standard pads; and stainless steel springs. Includes cleaning rod and strong plastic case. Cascio Interstate is offering this flute as a giveaway in its contest at http://www.interstatemusic.com/Contest/118-Enter-to-win-a-Ravel-by-Gemeinhardt-202SP-Flute.aspx. Enter to win by March 31, 2015.
RGP202 Piccolo • The piccolo provides the best possible start for the student or novice piccolo player! The silver-plated head joint on the composite body provides the musician with the comfort and familiarity of a silver-plated lip plate. The durable, composite (plastic) body will not crack due to weather extremes, and its durable pads will last for a long time. The smooth and quiet key mechanism is durable and plays with ease. Features include a straight head joint with a silver-plated finish; composite (plastic) body finish; and silver-plated key finish. Includes wood cleaning rod and durable zipper case.
RGC202 Bb Clarinet• The clarinet is perfect for any level of musician, serving the needs of students or experienced players. Durable, comfortable keywork makes it easy to play. The optimal bore design is combined with inset, undercut tone holes, resulting in excellent intonation throughout the range, and a clear sound overall. It features an ABS resin body with wood-like finish; undercut tone holes; nickel-plated forged keys; blue steel springs; thumb rest; and strap ring. Includes mouthpiece with ligature and cap and a durable lightweight case.
RGA202 Alto Saxophone & RGT202 Tenor Saxophone • Perfect for all levels of musicians in education and performance, these saxophones are well suited for both classical and jazz styles. The tone, body, bore size and neck are designed for the discerning professional's expectations, but at an affordable price. Adjusting screws and detachable posts make repairs and tune-ups easier for technicians. Both models feature a deluxe lacquer finish; modern key construction; top level pads; metal tone boosters; adjusting guard screws; upper and lower stack adjusting screws (alto only); and detachable posts. Includes mouthpiece, cap and ligature with a hard-shell plastic case.
Cascio Interstate Music ranks in the top 15 nationally among musical instrument retailers as well as being one of the nation's top drum retailers. Cascio provides musical instruments and accessories to musicians of all ages, including music educators at over 100,000 schools and universities, as well as music professionals worldwide. The company started in 1946 in Milwaukee, Wisconsin.
Today, over 100,000 musical products are marketed nationwide via catalogs and online, and locally at their SuperStore in New Berlin, Wisconsin. For Wisconsin musicians, their Milwaukee music store offers private music lessons, free educational clinics, musical instrument rentals, musical instrument and electronic repair, and more. Cascio designs and manufactures their own company-designed brands of guitars, drums and band instruments – Archer, Union and Ravel – for consumers, major online retailers and schools worldwide.