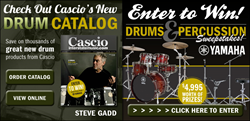 The Grand Prize in this sweepstakes is a Yamaha Live Custom 4-Piece Shell Pack, with all of the pedals and stands.
(PRWEB) October 29, 2015
Cascio Interstate Music's newest Drum Sweepstakes is now underway, in conjunction with the release of Cascio's 116 page Winter 2015-2016 Drums & Percussion Catalog, featuring innovative and inspirational drummer Steve Gadd on the cover. Cascio's first catalog specifically for drummers dates back to 1993.
"We wish to thank the legendary Steve Gadd for gracing our Cascio Interstate Music Drum cover this season," said Michael Houser, Cascio Interstate Music CEO. "His incredible studio and live performance work with everyone from Steely Dan to Paul Simon to James Taylor and many more artists, makes him the perfect artist-fit for our drum audience and customers."
The Grand Prize in this sweepstakes is a Yamaha Live Custom 4-Piece Shell Pack, with all of the pedals and stands (no cymbals). Yamaha's Live Custom series is designed with a focus on playing in live situations, with drum shells constructed from 1.2mm oak plies. It delivers a fat, rich tone with awe-inspiring presence.
The full Grand Prize Package is valued at $4995 and consists of:

Yamaha Live Custom 4-Piece Shell Pack with 18"x22" Bass Drum, 7"x10" and 8"x12" Toms, and 15"x16" Floor Tom (no snare drum). The finish is Lacquered Amber Shadow Sunburst.
Yamaha 800 Series Hardware Pack includes (2) CS865 Boom Cymbal Stands, HS850 Hi-Hat Stand, SS850 Snare Drum Stand, FP9500C Single Bass Drum Pedal.
Yamaha Drum Throne DS750
Yamaha Bass Drum Pedal FP8500B
(Cymbals are NOT included)
In addition to the Grand Prize, Cascio offers three additional prizes. First prize is a $100 Cascio Gift Card, second prize is a $50 Cascio Gift Card, and third prize is a $25 Cascio Gift Card. Enter the sweepstakes before October 15, 2016 at http://www.interstatemusic.com/stevegadd, or with the entry form in the front of the catalog.
Cascio Interstate's Winter 2015-2016 Drums & Percussion Catalog includes the very latest products for drummers from major manufacturers, as well as best sellers in all categories. The catalog features cymbals, drumheads, drumsticks and mallets, accessories from practice pads to muffling devices, percussion from hand-held to ethnic drums, drum sets and hardware including parts, cases and bags, electronic drums and triggers, microphones and headphones.
The catalog also includes DVDs and books, helpful for learning new techniques, and make great gifts for any drummer. Request a copy of the free 116 page catalog at http://www.interstatemusic.com/drumcatalog by phone at (800) 462-2263, or view the entire catalog online at http://www.interstatemusic.com/zmags/Drum-Catalog.html.
Cascio Interstate Music ranks in the top 15 nationally among musical instrument retailers as well as being one of the nation's top drum retailers. Cascio provides musical instruments and accessories to musicians of all ages, including music educators at over 100,000 schools and universities, as well as music professionals worldwide. The Company started in 1946 in Milwaukee, Wisconsin and proudly remains independently owned, operated and run by musicians.
Over 100,000 musical products are marketed nationwide via catalogs and online, and locally at their SuperStore in New Berlin, Wisconsin. For Wisconsin musicians, their Milwaukee music store offers private music lessons, free educational clinics, musical instrument rentals, musical instrument and electronic repair, and more. Cascio designs, markets and manufactures proprietary brand musical instruments including Union Drums, Archer Guitars, Ravel Band Instruments and Melokia Ukuleles for consumers, the nations's leading eCommerce retailers, and schools worldwide.