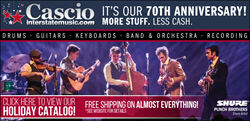 ... musical items and accessories that are on the smaller size of the gift spectrum … and most will fit in stockings 'hung by the chimney with care!'
New Berlin, WI (PRWEB) November 30, 2016
Christmas activities and holiday shopping is in full swing now that December is here, and Cascio Interstate Music is helping holiday shoppers find the best gear for the musicians with "stocking stuffer" gift suggestions..
With an inventory of over 75,000 items, Cascio Interstate offers free shipping on most items this holiday season. Cascio Interstate carries a wide range of products for drummers, guitarists, singers, keyboardists, studio enthusiasts, podcasters, and wind and stringed instrument players, from the pro player to the school musician. The company encourages all ages to play a musical instrument, and to indulge in their passion.
This list of suggestions features musical items and accessories that are on the smaller size of the gift spectrum … and most will fit in stockings "hung by the chimney with care!"
• DRUMS & PERCUSSION STOCKING STUFFERS:
Standard DRUM STICK BAG (MB224, $12.98) from Zildjian. Features dual ties and carry handle with
Outer Velcro closure pocket.
DRUMS BOOK, CD & DVD FastTrack Starter Pack, (QIU292214, $14.99) from Hal Leonard. The original FastTrack book/online audio along with an instructional DVD, making learning to play drums easier and faster than ever before! Audio tracks are available for download or streaming.
Kid's DRUMSET COURSE BOOK & CD, (QIU250343, $15.99) from Alfred. The easiest drumset method ever! Full-color book is specifically designed with attention-grabbing illustrations for use with kids at the elementary level. 48 pages.
SLEIGH BELLS (PC106SB25, $18.99) from Union. Just hear those sleigh bells jingling, ring-ting-tingling – anytime you wish. 25 bells.
MARACAS (PA687, $26.99) from LP. One is high pitch and one low pitch, a traditional feature in vintage maracas.
COWBELL Black Beauty LP204A (PA107, $29.99) from LP. Give the gift of "more cowbell" this year. It's the bell that no percussionist or complete entertainer should live without.
• GUITAR/BASS STOCKING STUFFERS:
EASY GUITAR BOOK Christmas Favorites (QPC11022, $10.99) from Hal Leonard. A super collection of 33 seasonal songs, in standard notation and tab in "easy guitar" style. 56 pages.
CHROMATIC GUITAR TUNER SN1X (EA216SN1X, $15.99) from Snark. Full Color Display Rotates 360°. Tap Tempo Metronome.
UKULELE BOOK/CD Teach Yourself to Play (QIU305031, $19.99) from Alfred. Beginners of all ages can start their journey to a lifetime of musical enjoyment.
EFFECTS PEDALS for Guitar (Chorus EFFGHC1, $59.99; Distortion EFFGDT1, $39.99; Metal Overdrive EFFGMO1, $59.99; Overdrive EFFGOD1, $39.99; Vintage Delay EFFGVD1, $49.99) from Gravity. Beginners and pros alike are discovering these great sounding pedals are comparable to models that cost twice as much. AC adaptor is optional (ET688, $10.99).
Amplug HEADPHONE AMPLIFIERS (AMPAMPPLUGG2(model), $39.99) from Vox. The easiest way to enjoy true analog amplifier sound in your headphones! Fully analog circuits. Choose from AC30, Bass, Classic Rock or Metal.
• PRO AUDIO STOCKING STUFFERS:
Dynamic Handheld PGA48 CARDIOID MICROPHONE (MICPGA48XLR or MICPGA48QTR, $39) from Shure. Excellent sound for spoken word and karaoke performance. On/off switch. 70 Hz–15 kHz. Comes with XLR or 1/4" cable.
Porta Pro HEADPHONES (SRSPORTAPRO, $39.99) from Koss. Ultra portable on-ear headphones. Comfort Zone setting for comfortable secure fit. Collapsible headband.
Sound Isolating EARPHONES (SRSSE112GR, $49) from Shure. Great sound with deep bass.
Lightweight body with an over-the-ear configuration plus an angled nozzle for a comfortable fit. Includes three sizes of sleeves. Gray.
Dynamic SM57 MICROPHONE (MICSM57LC, $99 includes $10 mail-in rebate) from Shure. The legendary SM57 is exceptional for professional quality reproduction on drums, percussion, and instrument amplifier miking.
H1 Handy DIGITAL RECORDER (SRSH1, $99.99) from Zoom. Zoom's smallest recorder with stereo X/Y mic configuration. USB port. Records in WAV or mp3 from 48 to 320kbps. 1/8" external mic input and stereo 1/8" line output. Includes 2GB microSD card and one AA battery. Power Adaptor is sold separately (EA166ZAD0017D, $24.99).
• WIND INSTRUMENT/GENERAL STOCKING STUFFERS:
RECORDERS (EM570 (color), $1.99) from Ravel. ABS resin plastic, three-piece construction. Select from solid Ivory, or translucent colors: Blue, Green, Orange, Pink, Purple, Red, or Yellow.
FOLDING MUSIC STAND (SP007 & SP007(color), $7.99) from Ravel. Music stand conveniently folds up and stores in included bag. Extends to 52", folds to 20-1/2". Durable enamel in colors Black, Purple, Yellow, Pink, Green, Blue, Red, Silver or White.
COMBO TUNER/METRONOME (EA073TM50(color), $29.99) from Korg. Use the tuner and metronome simultaneously! Wide detection range from C1 to C8, wide tempo range of 30-252 beats/minute.
Duet2 LED MUSIC LIGHT (LT384, $31.99) from Mighty Bright. Two energy-efficient LEDs per gooseneck cast bright white light. Durable LEDs last 100,000 hours - no replacement necessary. Two switches control up to four lighting levels.
AIRBOARD JUNIOR (HARHKAIR25, $42.99) from Hohner.
25-note version of the Airboard for kids has a cool style and is easy to play. Includes color note placement stickers.
Student PICCOLO (PICRPC202, $199.99, Free Gift $10 Gift Card w/ Mail-In Rebate) from Ravel. Key of C with ABS Body and metal headjoint. Nickel plated keys, Offset G. Protective case included.
Cascio Interstate Music ranks in the top 15 nationally among musical instrument retailers, and is also one of the nation's top drum retailers. As the Company moves into its 70th year in the Music Industry, Cascio continues to evolve as an omni-channel musical retailer, in an effort to satisfy all its customers expanding and changing needs both now and in the future.
The Company markets over 75,000 musical instruments and accessories to musicians of all ages in a number of ways including via their website, http://www.interstatemusic.com, and through their SuperStore, located in the Milwaukee suburb of New Berlin, Wisconsin, as well as their musician-staffed information center at (800) 462-2263. Cascio also provides products to music educators at over 100,000 schools and universities worldwide. The Company started in 1946 in Milwaukee, Wisconsin and proudly remains independently owned, operated and run by musicians.