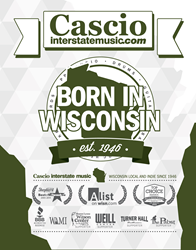 We feel as though it is our responsibility to help artists receive as large of a 'reach' as possible by exposing their music to as many fans as possible.
New Berlin, WI (PRWEB) September 30, 2015
"Born in Wisconsin in 1946" is a new slogan for Milwaukee's popular and enduring Cascio Interstate Music SuperStore, and for 69 years this music store has been an integral part of the city's musical landscape. Besides being a source for musicians to buy and rent musical instruments, Cascio also strongly believes in the value of live music that takes place in their own backyard, providing publicity and concert promotion for events at local theaters and venues.
Cascio Interstate interacts directly with these Milwaukee-area venues, helping to publicize the theater's or venue's messaging along with specific information on concerts and productions. The Company helps spread the word on the artist and venues in order to help both the artist and venue through this additional exposure, and ultimately ticket sales.
Cascio's marketing department creates and utilizes e-media, print, social media and in-store support to present a multi-channeled approach, which directly targets their musical customers and other music fans. Company CEO/CMO Michael Houser states, "We feel as though it is our responsibility to help artists receive as large of a 'reach' as possible by exposing their music to as many fans as possible. Since our customer base is primarily all musicians, it is a small way we can help artists receive as broad of a base of fans as we can expose their music to in our market, whether they are established artists or newcomers."
Cascio Interstate Music supports or has supported complete show series or select events at the following venues:

A new program has been designed to feature Milwaukee's home-grown musical talent with Cascio Interstate's Band of the Month, at http://www.interstatemusic.com/bandofthemonth.aspx. Selected bands are promoted online in Cascio's social media accounts and newsletter, and inside the retail store with the opportunity to sell their latest release. The Band of the Month also receives a free $100 gift card to use at Cascio Interstate. In exchange for this, the bands are asked to post about Cascio on social media, and to add the Cascio logo into the corner of an upcoming show flyer.
About Cascio Interstate Music:
Cascio Interstate Music ranks in the top 15 nationally among musical instrument retailers and is one of the nation's top drum retailers. Cascio provides musical instruments and accessories to musicians of all ages, including music educators at over 100,000 schools and universities, and music professionals worldwide. The company started in 1946 in Milwaukee, Wisconsin.
Over 100,000 musical products are marketed nationwide via catalogs and online, and locally at their SuperStore in New Berlin, Wisconsin. Cascio's retail location offers private music lessons, free educational clinics, instrument rentals, musical instrument and electronic repair, and more. Cascio designs, markets and manufactures proprietary brand musical instruments including Union Drums, Archer Guitars, Ravel Band Instruments and Melokia Ukuleles for consumers, major eCommerce online retailers and schools worldwide.