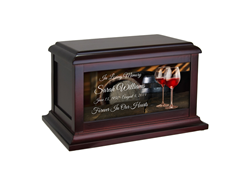 "We know how important it is to preserve the cherished memories of our loved ones.." -Susan Fraser
Three Rivers, California (PRWEB) November 05, 2014
When families lose a loved one, they often worry that their precious memories will dim over time. They want to preserve the images of their loved one's hobby, passion, vocation or military service, but don't know where to turn for understanding support. When family members are buried, they have the option of customizing a headstone, but often the question arises; what can be done for a loved one who is cremated? They are relieved to find the Keep the Memory™ Cremation Urn Series from In The Light Urns of Three Rivers, CA.
In The Light Urns is a family-owned business that provides a full line of memorial products for preserving cremated remains. However, founder and CEO, Susan Fraser, says one thing that has always seemed to frustrate clients was their inability to find a way to truly keep alive and preserve the memories of what made their loved one so special. The Keep the Memory™ Cremation Urn Series offers these families a powerful and lasting solution to this problem.
Each of these beautiful hand-crafted wood urns is finished with a warm rose wood finish, but their main attraction lies in the beautiful metal plate displayed on the front, which allows family members to choose from a wide selection of exclusive customization opportunities. High-definition pictures stand out with full-color printing on these metal photo panels.
One option clients have, is the option of choosing one of the company's existing plate themes that may bring forth memories of the dearly departed's life and loves. These professional images include categories such as; religion, sports, cars, science, old west, space, careers, beautiful sceneries and much more. These themes can be personalized with the addition of a custom photo and four lines of text that represents your loved one. In one recent example, a lifelong railroader was able to pre-plan his cremation urn including an addition three plates with a photo of himself at the controls of a powerful locomotive, along with pictures from various stages of his railroad career and logos from the railroad organizations that he had been so proud to be a part of.
For a completely personal customization, the family may also choose to provide a photo of their own as the theme for the plate as well as add a custom photo and four lines of text. Special images in a collage, wedding photos, a picture of a favorite car, or scenes from an unforgettable moment can be used to personalize these portrait urns.
"We know how important it is to preserve the cherished memories of our loved ones," commented Fraser. "I'm so happy that our Keep the Memory™ line of custom cremation urns can play a role in that process. Not only is this a quality product with a 100% satisfaction guarantee that I am proud to offer, it is the perfect way to memorialize and preserve the images of what meant the most to a loved one. I know family members appreciate the ability to keep their memories bright."
About In The Light Urns: In The Light Urns of Three Rivers CA is a family-owned company which has provided custom cremation urns for ashes since 2001. The company offers a variety of custom cremation urns, cremation jewelry, cremation keepsakes, sympathy gifts, pet urns and pet memorials. Visit the website at http://www.inthelighturns.com or call 800-757-3488 for a personal appointment with a Memorial Specialist.