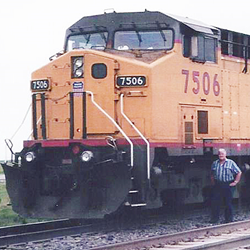 If you rails are lookin' for a wonderful eternity urn, one for your last trip, one that you'll be proud to have, Susan at In the Light Urns is the place to go.
Three Rivers, California (PRWEB) September 03, 2014
Bucky Moore spent his life as a "rail," a term used by railroaders, traveling through the Midwest to destinations like Chicago, Kansas City, and St. Louis. Now 71, and retired with fond memories of his "throttle jockey" years, he has already pre-planned his cremation urn. He contacted Susan Fraser at In The Light Urns, who recommended a custom wood cremation urn for ashes from the Keep The Memory© Cremation Urn Series.
Bucky personalized his urn using memorable digital images from his career. The top and ends spotlight high-quality photos from his "running days." The sides feature a picture of exceptional clarity of a powerful locomotive steaming through eternity with Bucky at the controls. Logos from organizations that hold a place in his heart, "Bucky Meant Well," his birth date, and space for his "glory day" complete the personalized story.
Bucky was so pleased with his wood urn that his granddaughter even filmed a video review where he describes his picture urn for ashes. "It means so much that Bucky likes what we created," commented Susan Fraser, founder and CEO of In The Light Urns. "We hope this custom urn will provide comfort to Bucky's family, and will also honor him in a way that he loved...as a 'rail.'"
Fraser says Moore opted for a Keep The Memory© Cremation Urn based on the personalization capabilities and the option to include full color images from his railroad career. Clients can also choose customizable themes including Nature, Wildlife, Ocean, Car, Motorcycle, Truck, Veteran, Airplane, Sports, Universe, Butterfly, Child Urns and Religious Urns. These cremation urns feature an exceptional quality of detail and resolution that allows an image to turn into a focal point.
Each is crafted of birch wood with a quality rose wood finish. The custom panels are a durable UV-resistant, scratch-resistant, waterproof surface that can be cleaned with a damp cloth. High definition pictures stand out with full-color printing on metal photo panels. Families can also upload a loved one's favorite photos to create a highly personalized urn from scratch.
"Working with Bucky was a unique experience," concluded Fraser. "He often talked about his harrowing trips across the Midwest Railroad System. My husband Rick said Bucky reminded him of the story of Casey Jones. I believe this memorial will add beautifully to the romance of the railroad and Bucky's life on it."
About In The Light Urns: In The Light Urns of Three Rivers CA is a family-owned company which has provided custom cremation urns for ashes since 2001. The company offers cremation urns, cremation jewelry, cremation keepsakes, sympathy gifts, pet urns and pet memorials. Visit the website at http://www.inthelighturns.com or call 800-757-3488 for a personal appointment with a Memorial Specialist.