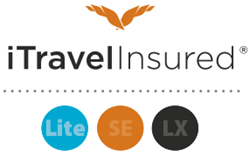 We're constantly listening to our customers to learn how we can best meet their evolving travel needs.
Indianapolis, IN (PRWEB) June 02, 2015
iTravelInsured®, Inc., a subsidiary of International Medical Group, Inc.® (IMG®) today announced enhancements to its travel programs available to U.S. family, student, business and other travelers.
The company designed the new travel products to meet the needs of a growing and increasingly diverse travel market. According to the U.S. Travel Association, Americans accounted for more than two billion leisure and business trips in 2014.
IMG President and CEO R. Brian Barwick said the enhancements to the company's products builds upon a 25-year commitment to providing travel protection to all types of travelers.
"We're constantly listening to our customers to learn how we can best meet their evolving travel needs," Barwick said. "These new options reinforce our tagline, 'Travel Protection Without Boundaries®,' by widening the range of protection we are able to provide."
The new iTravelInsured plans have insurance benefits underwritten by the United States Fire Insurance Company, and they were designed to fall into three tiers based on travelers' needs:

Travel Lite: An existing plan that includes new benefits, such as reimbursement of miles and points, and rental car damage coverage
Travel SE: A new plan for families that provides coverage for children under the age of 18 at no additional charge per insured adult
Travel LX: iTraverInsured's highest benefit level plan with 'Cancel and/or Interruption for Any Reason' coverage included within the base price
Amanda Winkle, Vice President of International Sales of IMG, believes the plans will be empowering to travel agents seeking to address their customers' concerns about travel issues, from flight cancellations to medical emergencies, that often arise.
"Our plans account for many of the challenges our customers have faced in the past several years, and we are proud to roll out these plans in time for a busy travel season," Winkle said.
For more information about iTravelInsured programs, travel agents and travelers may visit our website (http://www.itravelinsured.com), or contact iTravelInsured Agency Services via 1.866.655.9796 or service(at)itravelinsured(dot)com
About iTravelInsured, Inc.
iTravelInsured, Inc., a wholly-owned subsidiary of International Medical Group (IMG), is a travel insurance provider, program manager and agency licensed and appointed by insurance companies to manage travel insurance on their behalf. Programs offered are designed to protect travelers whose trips are cancelled or interrupted due to unforeseen events. iTravelInsured is a Better Business Bureau accredited business (rated A+)
About International Medical Group
For 25 years, International Medical Group (IMG) has provided high quality global medical insurance benefits while developing a reputation of excellence and leadership in the international medical insurance market. IMG is confident in its ability to provide the products that international travelers need, backed by the services they want through an extensive network of in-house resources. IMG's family of companies include Akeso Care Management®, IMG Europe Ltd., IMG-Stop LossSM, Global Response Ltd. and iTravelInsured. Located in Indianapolis, Ind., U.S.A., IMG has provided Global Peace of Mind® to millions of people worldwide in more than 170 countries. IMG is committed to being with its international clients wherever life takes them.
About United States Fire Insurance Company
Insurance benefits are underwritten by the United States Fire Insurance Company. Fairmont Specialty and Crum & Forster are registered trademarks of United States Fire Insurance Company. The Crum & Forster group of companies is rated A (Excellent) by AM Best Company 2014. Not all coverage is available in all jurisdictions.
*Travel Assistance Services are provided by International Medical Group, and not by United States Fire Insurance Company.