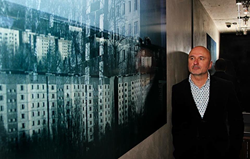 I knew Chernobyl and Pripyat would be emotional, but I wasn't expecting to bring those emotions home with me and for them to stay with me to this day
Southend, Essex (PRWEB UK) 13 January 2016
On the 26th April 1986 when Reactor 4 blew up as a result of human error, the worst-ever nuclear disaster began to unfold at Chernobyl, Ukraine. Into the Light is an exhibition of images by photographer Simon Isaac depicting an apocalyptic future.
Photographed predominantly in Chernobyl & Pripyat, Ukraine, Simon Isaac's latest exhibition shows how nuclear power could eventually be the downfall of the human race. Simon, an Essex photographer and creative agency owner, captures the emotion of the location, whilst demonstrating the power of nature to adapt and survive in extreme circumstances.
Simon says, "Pripyat is three kilometres from Chernobyl; it was a purpose-built city, home to highly skilled staff, security personnel and their families. It took the Soviet authorities a day to order a full evacuation, and in three hours some 50,000 people left the city, not knowing that they would never return. The haste in which they left is evident all around, from abandoned toys to rusting school buses."
With a penchant for photographing with his 45-year-old Leica, often in black and white, for this collection Simon was able to focus on one of his favourite subjects, derelict buildings. He explains, "Because of the nature of my work I spend most of my time with other people, and that is one of the things that attracts me to derelict buildings. The solitude, being in there on my own, I can imagine the lives and emotions of the people who have stood where I stand, years before. I knew Chernobyl and Pripyat would be emotional, but I wasn't expecting to bring those emotions home with me and for them to stay with me to this day."
"It was an interesting trip, giving me opportunities to experiment with my photography. To see people's homes, the places where they worked, theatres, cinemas, police stations; I was able to see things that I would never have seen if this tragedy had not occurred. I saw interrogation cells, and the hospital where so many 'liquidators' were treated. Liquidators were workers who entered areas designated as 'contaminated' to help reduce the consequences of the explosion. These people included power plant operators and emergency workers such as firefighters and military personnel. They weren't always aware of the danger involved and were often poorly equipped to protect themselves from radiation."
The whole experience was humbling and emotional for Simon, and visitors to the exhibition will be prompted to view his pictures from a multi-dimensional perspective. The images may represent tragedy, loss, and solitude but they also demonstrate the power of nature, its tenacity in the wake of a disaster, and ultimately, hope.
Into the Light runs until 6th February at the Beecroft Gallery, Southend, Essex. For more information visit: http://www.southendmuseums.co.uk and to find out more about Simon and his work visit: http://www.warningshot.co.uk