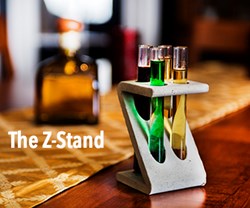 Concrete is timeless, durable/sustainable, and great to create awesome designs.
Barrington Illinois (PRWEB) December 17, 2013
IntoConcrete, based out of Chicago, is an innovative startup committed to designing and bringing to market concrete products that are contemporary, timeless, and sustainable. In the case of the first product that IntoConcrete is launching, this means the Z-Stand, a minimalist, multi-purpose holder manufactured entirely from Ultra High Performance Concrete (UHPC).
The Z-Stand is a holder that, as the name suggests, is shaped very much like the letter Z. It is capable of holding upright a variety of items such as pens, toothbrushes, artist's tools, spices; really the list is endless. Anywhere a robust, stylish and functional upright holder is required, the Z-Stand fits the bill.
In order to further the development of the Z-Stand, father and son team Mario and Roberto Guagnelli are hoping to raise the required funds to put the Z-Stand into production through a Kickstarter crowdfunding initiative. IntoConcrete needs $19,000 to begin production of the Z-Stand in Germany. It is hoped that Kickstarter, the popular crowdsourcing site, will help this new venture to reach this goal. The project was initially floated on the Kickstarter website on the 12th of December, 2013, and has already attracted a fair amount of support.
The Z-Stand is constructed entirely from UHPC, with an outer covering of transparent epoxy, making the entire design waterproof. To explain the concept behind the Z-Stand, Mario Guagnelli, the founder of IntoConcrete, has said that, "When I decided to shift career gears I wanted to focus on things I am passionate about, i.e. innovation, design, sustainability and ''making things." Says Mario, who explains his passion for concrete by adding, "This past summer I came across a very interesting trend in Europe, amazing everyday items made with concrete. Concrete is timeless, durable/sustainable, and great to create awesome designs so building a business around this idea definitely fit the bill."
If the Kickstarter funding exercise is successful, production of the Z-Stand will take place in Germany, where IntoConcrete has forged strategic partnerships with specialized UHPC manufacturing companies that can deliver an exceptional quality product.