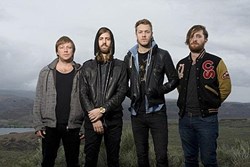 (PRWEB) December 31, 2013
Imagine Dragons have come out of nowhere to become one of the most popular bands in the United States. Hits such as "Radioactive", "Demons", "On Top of the World" and "It's Time" have been on the radio day and night. Diehard fans will want to see this alternative rock group live. Ticket Monster offers some of the best Imagine Dragons concert tickets available prior to the show.
The Night Visions album was released on September 4th, 2012 and continues to remain extremely popular. It is not often the case that one album will produce as many hits as this one. Imagine Dragons has yet to release a new studio album and they may not have to for quite some time. It seems to be the case that any time fans hear the alternative sound of Imagine Dragons they are immediately drawn to the melody and vibrant sounds. This is something many bands cannot say these days.
The 2014 Imagine Dragons Into the Night tour will start on February 8th, 2014 in Boise, Idaho and will conclude on March 15th, 2014 in Denver, Colorado. For the best Imagine Dragons concert tickets make sure to use Ticket Monster. Below are the dates and the venues in which Imagine Dragons will be performing in early 2014:
February 8th, 2014 - Boise, ID -- Taco Bell Arena
February 10th, 2014 - Vancouver, BC -- Rogers Arena
February 11th, 2014 - Seattle, WA -- Key Arena
February 13th, 2014 - San Jose, CA -- SAP Center At San Jose
February 14th, 2014 - Los Angeles, CA -- The Forum
February 15ht, 2014 - San Diego, CA -- Valley View Casino Center
February 17th, 2014 - Phoenix, AZ -- US Airways Center
February 20th, 2014 - Austin, TX -- Frank Erwin Center
February 21st, 2014 - Dallas, TX -- American Airlines Center
February 24th, 2014 - Nashville, TN -- Bridgestone Arena
February 26th, 2014 - Atlanta, GA -- Philips Arena
February 28th, 2014 - Norfolk, VA -- Constant Convocation Center
March 1st, 2014 - Uncasville, CT -- Mohegan Sun Arena
March 3rd, 2014 - Montreal, QC -- Bell Centre
March 4th, 2014 - Toronto, ON -- Air Canada Centre
March 6th, 2014 - Worcester, MA -- DCU Center
March 7th, 2014 - Camden, NJ -- Susquehanna Bank Center
March 8th, 2014 - East Rutherford, NJ -- IZOD Center
March 12th, 2014 - St. Paul, MN -- Xcel Energy Center
March 13th, 2014 - Chicago, IL -- Allstate Arena
March 15th, 2014 - Denver, CO -- Pepsi Center
As we approach the tour date in your town or city it is smart to get your tickets ahead of time. Ticket Monster provides a wide variety of options for the Imagine Dragons tour or any other concert tour. Please use TicketMonster.com to find out the latest when it comes to sports, entertainment and media news. There are new articles published every day.