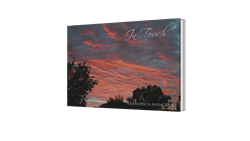 Everyone has art that flows inside them, but many are unable to express it. I hope that In Touch will put those people in touch with the hidden artistry in all of us
(PRWEB) February 18, 2015
Francesca Avincola is releasing her new book, 'In Touch,' through Next Century Publishing on February 10, 2015. Francesca has collected a variety of material and arranged it in such a way to inspire others with her thoughts, photos, poems and artistry. She hopes that "this book will awaken the hidden artistic talents and desires in those who read it so that they will be encouraged to live a life of passion and purpose."
Francesca Avincola, located on the web at http://www.francescaavincola.com/, has devoted her life to the arts. Since she was ten years old, she has been writing poetry, taking photos and dabbling in all types of creative expression. Now, her work has come to fruition in this beautiful hard-bound volume that will inspire with its graphic excellence and thought-provoking content.
"I want this book to act as a voice for those who are unable to share their own internal art," says Avincola. "Everyone has art that flows inside them, but many are unable to express it. I hope that In Touch will put those people in touch with the hidden artistry in all of us."
In Touch travels through unpredictable and unexpected paths in life and explores contradictions of the human experience such as love and hate, pleasure and pain and light and dark. With beautiful photos, lovely poems and writing by Avincola, In Touch promises to be the exciting culmination of years of work in different forms of expression. Now, the book is available through Next Century Publishing at http://www.francescaavincola.com/shop/.
About Francesca Avincola:
Francesca Avincola is an avid writer, poet, photographer and artist. She worked for five years as a journalist before dedicating her time to her first book, In Touch, available through Next Century Publishing.