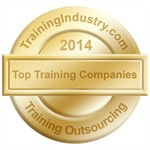 2014 has been a banner year for Intrepid's training outsourcing offerings, and we're very proud that those efforts have been recognized by TrainingIndustry.com.
Seattle, WA (PRWEB) April 03, 2014
For the eleventh consecutive year, Intrepid Learning has been named a Top 20 Training Outsourcing Company for 2014 by TrainingIndustry.com. This award reflects Intrepid's long-standing commitment to excellence in the training and development field.
This distinction adds to Intrepid's long list of achievements. Intrepid has previously been recognized in multiple years as a TrainingIndustry.com Top 20 Learning Portal Company and a Top 20 Content Development Company.
The TrainingIndustry.com Top 20 Training Outsourcing list spotlights the world's foremost companies for providing industry-leading training services. The selected 2014 Top 20 Training Outsourcing List Companies demonstrated excellence in many areas, including:

Industry visibility, innovation and impact
Capability to deliver multiple types of training services
Company size and growth potential
Strength of clients
Geographic reach
"This year's Top 20 Companies offer an extensive range of training services and partnerships to support deals covering all regions globally," said Ken Taylor, Chief Operating Officer, Training Industry, Inc. "The companies showed continued growth in key areas like program delivery and custom content development."
"2014 has been a banner year for Intrepid's training outsourcing offerings, and we're very proud that those efforts have been recognized by TrainingIndustry.com," said Derek Shipley, Vice President of Global Delivery Services for Intrepid Learning. "We have expanded our focus on the fundamentals of creating world-leading training outsourcing capabilities, which has led to many new opportunities. We fine-tuned our operational processes, expanded our internal support tools and systems, and deepened our relationships with existing clients while expanding our relationships with new clients. We are excited for the growth we have seen in our outsourcing business as a result of these efforts, and we look forward to continually improving our services to be the outsourcing firm of choice for our clients."
About Intrepid Learning:
Founded in 1999 with worldwide headquarters in Seattle, Intrepid Learning imagines, creates and delivers world-class learning solutions to inspire individual performance and drive organizational success. Intrepid fully utilizes the four branches of its business—research, consulting, technology and outsourcing—to solve business challenges and maximize performance for blue-chip companies. Intrepid Learning's flagship technology product, Intrepid AgileTM, is an informal learning solution that enables the self-directed learner to acquire knowledge naturally, easily and continuously.
About TrainingIndustry.com
TrainingIndustry.com spotlights the latest news, articles, case studies and best practices within the training industry. Its focus is on helping dedicated business and training professionals get the information, insight and tools needed to more effectively manage the business of learning.
For more information about how Intrepid Learning can help you achieve your company's learning goals, call 877.866.4457 or visit intrepidlearning.com.