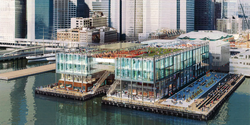 Revitalizing NYC and strengthening its structural foundations for the future is a part of the Intricate Construction mission. John Lombardi, President of Intricate Construction
Hawthorne, NY (PRWEB) May 12, 2016
Intricate Construction is proud to play an important role in the construction of the landmark Howard Hughes Corporation/Shop Architects project of the South Street Seaport at Pier 17. The project will provide enormous waterfront common areas and shopping for New Yorkers and visitors to enjoy the revitalized space in lower Manhattan. Intricate Construction is contracted to complete all sidewalks, curbs and street restoration on South Street. On the newly constructed pier, Intricate Construction will install all asphalt and concrete work, such as fill slabs, sub slabs, planter walls, curbs and footings. In addition, structural fill foam will be used throughout the pier's development to minimize settlement and possible drainage issues.
The project, which is projected to be complete in 2017, is designed to seamlessly connect the historic buildings of the district by increasing ease of pedestrian access from South Street to the Pier and the East River waterfront. The newly constructed pier will afford visitors beautiful views of the Brooklyn Bridge while concurrently providing a place for stores, restaurants and outdoor seating areas within the location. Intricate Construction will furnish and install all custom wood, Ductile concrete and glass fiber reinforced concrete site furniture and planters on the pier and rooftop level to enhance the environment of NYC's newest waterfront landmark.
"Revitalizing NYC and strengthening its structural foundations for the future is a part of the Intricate Construction mission. We have taken on such iconic projects like Pier 17 because we believe that positive changes to public areas and our surroundings will lead the way for engendering a safe, people-centered and long-lasting environment for the community and its visitors to share. "John Lombardi, President of Intricate Construction
Intricate Construction Inc. are leaders in NYC sitework and construction with unmatched capacity and experience. They are frontrunners in private and government contracting, fabrication and installation of concrete or natural stone paving and curbs, bollards, concrete work, architecturally finished sidewalks, walls and common areas, concrete or stone planters, plaza furniture, fixtures and turn-key water features. Their landmark construction installations span across the New York City skyline and include other notable projects such as Barclays Center, Yankee Stadium and Rockefeller Center.
For more information visit the Intricate Construction website at http://intricateconstruction.com/
-or contact-
Christian Evans
Evans Alliance
cevans(at)evansalliance(dot)com