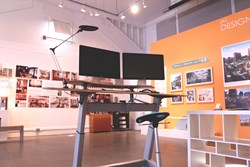 Sphere, The Best New Standing Desk From Focal Upright.
Portsmouth, Rhode Island (PRWEB) February 14, 2014
Ask any deskbound worker how they feel after emerging from their office chair at the end of the workday and the answer will be "meh" or worse. These unenthusiastic responses are indicative of the negative impact that prolonged sitting in even the best ergonomic office chair has on the body. (Google the term "sitting disease" and you will be convinced!) However, the team at Focal Upright is giving the deskbound something to be excited about with the introduction of the Sphere Workstation.
The Sphere Desk was designed with workflow and comfort in mind. Turning any office space into command central, the Sphere's expansive desktop maximizes your workspace, accommodates your computer monitor at the correct viewing height, and adjusts both its height and incline to suit your work style. The Sphere keeps all your work needs close, so you can concentrate on the task at hand. The curved design graciously defines your space, whether you are in an office of one or many.
While the Sphere Desk can be used alone as a standing desk, when used with the award-winning Locus Seat, you'll enjoy all the ergonomic advantages this standing workstation was designed to address, with the ingenious option to stand or lean in comfort as you work.
Focal Upright is fundamentally changing the way people go about the work day. Company founder Martin Keen, who previously founded Keen Footwear, is continuing his pursuit of re-imagining how people interact with their environment, combining an intuitive sense of what is needed with an expert eye for utility, material and form. 
Readers who would like more information about Focal Upright and the all new Sphere Desk are invited to visit http://www.focalupright.com.
Editors Note: To speak with Martin Keen, or to obtain more information about the Sphere Desk, and Focal Upright, please contact Rachel Apostoles 401-694-0150 ext. 105 or rachel(at)focalupright(dot)com.
"Focal Upright was founded in 2012 and aspires to change the way people work and live."