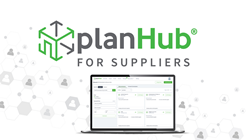 "We've created a new way for building materials sellers to find, connect, and collaborate with new customers, just as they are making critical purchase decisions" Ro Bhatia, PlanHub CEO
WEST PALM BEACH, Fla. (PRWEB) February 22, 2022
Today PlanHub, the leading pre-construction software as a service (SaaS) company for contractors and suppliers, announced the launch of PlanHub for Suppliers, a new software platform that enables construction materials suppliers, distributors, and manufacturer representatives, to locate sales opportunities and connect with purchasing contractors early in the construction project process. The new supplier-focused software helps them quickly find and be notified of construction projects that require the products they sell.
With the current construction boom, global supply chain issues, and nationwide logistics challenges, suppliers need a way to connect with builders looking to purchase their construction materials – directly and as early in the process as possible. PlanHub's new Supplier release gives these sellers access to thousands of projects in the pre-construction planning phase that already have the materials needs specified and gives them a direct channel to share their offers and estimates. Suppliers can start for free in PlanHub and immediately have access to hundreds of thousands of contractors and their projects.
"We've created a new way for building materials sellers to find, connect, and collaborate with new customers, just as they are making critical purchase decisions," said Ro Bhatia CEO of PlanHub. "Suppliers using PlanHub are able to tap into our huge network of current construction projects and get their materials information and estimates to thousands of contractors who are actively planning immediate purchases."
Powered by the industry-leading PlanHub bid technology and contractor database, the new supplier platform gives sellers a unique new sales channel to reach qualified prospects, just as they are planning purchases. Suppliers in PlanHub have the advantage of seeing more sales opportunities earlier in the process, thus allowing them to proactively provide estimates to buyers. This helps the contractors that are planning projects, as they get real-time quotes based on the project specifications that they are using to develop their bids. Suppliers communicate directly with active contractors and can use PlanHub to grow and manage their sales network, in a single, organized, cloud-based location.
Materials suppliers can now also receive in-bound sales requests in PlanHub. These are direct notifications that come from contractors in PlanHub that are looking for a new sales estimate to be developed for products they will need to purchase. Sharing and seeing all this information earlier in the sales process helps suppliers to forecast better and manage potential supply chain issues that may arise. Earlier understanding of project needs makes today's inevitable longer lead times less of an issue – and gives the seller a clear advantage.
"We are thrilled to release this new product that helps suppliers seamlessly find new sales opportunities by directly engaging with contractors who are building bids for upcoming projects", said Justin Bell, PlanHub Project Manager. "It's a great, new, purpose-built tool that's been specifically designed to help suppliers and contractors collaborate on projects and grow their businesses together".
Suppliers, distributors, and manufacturer reps can sign up for PlanHub for free. After providing information about the products that they sell and the areas they cover, they then have the immediate ability to begin searching for projects and contractors in PlanHub. Subscription packages with additional access levels and custom territories are also available at planhub.com.
About PlanHub
PlanHub is the leading cloud-based pre-construction bidding platform that enables General Contractors, Subcontractors, and Suppliers to connect and collaborate on construction projects across the US. PlanHub was created by contractors, for contractors, to simplify the construction bidding process with an easy-to-use application – a hub where a vibrant community of construction professionals can work together to efficiently tackle new projects and stay connected. https://planhub.com