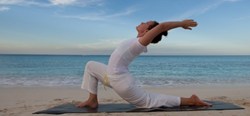 The Yoga and Meditation retreat was an incredible experience. Highly recommended
Nassau, Bahamas (PRWEB) July 22, 2013
Embark on a journey into your inner self, and come in touch with the source of knowledge and strength that lies within you. Learn concentration and meditation techniques and take your first steps towards attaining a calm and blissful mind. The introduction to meditation course includes introduction to sitting postures, deep relaxation, breathing exercises, concentration, and methods of introducing positive suggestions in the subconscious mind. An introduction to the philosophy and psychology of the practice of meditation will complement the experiential practice, and grant students the inspiration and inner strength required in order to persist in and develop your practice of meditation, both at the Yoga retreat and at home. The program is offered in Nassau, Bahamas from July 3rd-7th and October 10-14, 2013
This course is part of the Yoga foundations courses. Offered year round, the Foundation Courses are the ideal way to start and establish your yoga practice. Discover and develop a practice that will change your outlook on life, and give you tools for becoming more vital, happy and healthy.
A Comprehensive Program to Start and Develop Your Yoga Practice
The Foundation Courses embibe ancient yogic wisdom combined with experience accumulated over nearly a century by Swami Vishnudevananda and his disciples. They cover the five points of yoga, as presented by Swami Vishnudevananda for inner and outer health and peace:
Proper Exercise (Asanas) - Yoga poses help develop a strong, healthy body by enhancing flexibility and improving circulation.
Proper Breathing (Pranayama) - Deep, conscious breathing reduces stress and many diseases.
Proper Relaxation - Helps keep the body from going into overload mode, easing worry and fatigue.
Proper Diet - Eating simple, healthy and vegetarian foods that are easy to digest notably have a positive effect on the mind and body, as well as the environment and other living beings.
Positive Thinking and Meditation
In the serene and supportive environment of the ashram, you will find the perfect setting to experience the multitude benefits of the practice of yoga, which will inspire you to deepen and expand your practice.
While it is possible to take one or some of the Foundation Courses, it is recommended to take the whole series for a complete experience, which will establish your practice on a broad and stable base. For some, the Yoga Teach Training Course will be a natural continuation of such courses.
Located across the bay from Nassau, on one of the finest beaches in the world, the Sivananda Ashram Yoga Retreat is an island paradise with a tropical garden, crystal clear water and pure white sands - a true sanctuary of peace and natural beauty. Recognized among world Yoga Retreats, the ashram offers year-round programs presented by world renowned speakers, as well as certification courses on various yoga related topics through which you can expand your knowledge, gain a new skill and get certified while enjoying a joyous yoga practice and blissful relaxation. The Yoga retreat center also offers year-round Yoga teacher training programs, Ayurvedic Yoga Therapy Courses, Yoga for beginners, Yoga vacations and many other courses.
For more information, please call 1-866-446-5934 or visit sivanandabahamas.org.