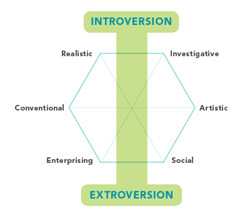 Dr. Jones shows introverts how to choose more successful, compatible careers and education programs.
Portland, Oregon (PRWEB) September 29, 2014
In a knowledge economy that rewards extroversion, introverts face challenges. Career guidance leader Career Key, http://www.careerkey.org, offers new advice about personality-environment fit that helps introverts overcome those challenges to achieve greater success at work and in school.
In "Introverts, Introversion – Tips for School and Job Success," Career Key author and counseling psychologist Dr. Lawrence K. Jones, NCC explains the benefits introverts gain from choosing a work or school environment that matches their personality. He combines John Holland's theory of person-environment fit with what we know about introversion.
Decades of research with Holland's theory clearly link job satisfaction and success in college with a close match between a person's personality and surrounding environment. This is called "person-environment fit."
In her recent book, Quiet: The Power of Introverts in a World That Can't Stop Talking, Susan Cain makes a convincing case that person-environment fit is also necessary for introverts.
In an infographic, Dr. Jones shows how introversion and extroversion are related to four of the six Holland personality types on the Holland hexagon: Realistic-Investigative and Enterprising-Social. Introverts are more likely to fall on the Realistic-Investigative side of the hexagon, while extroverts are on the opposite side. The more distance between types on the hexagon, the less compatible they are with one another. The hexagon visually demonstrates compatibility of personality types and environments, helping introverts find those that are the best fit.
Tips for introverts include:
1. Choosing a career or college major environment that fits their strongest Holland personality types: typically Realistic and/or Investigative;
2. Learning about oneself, including reading the Quiet book and taking its informal quiz to assess one's level of introversion; and
3. When and how long one should act out of character, like an extrovert.
Introverts can use this knowledge about their personality and compatibility with others to make better career, education, and personal decisions.
About The Career Key
The Career Key was developed by nationally recognized counseling psychologist Dr. Lawrence K. Jones, NCC, Professor Emeritus at N.C. State University. The Career Key website is advertising and registration free, designed to help people make good career and education decisions based on the best science and practices of career counseling. In addition to being earth-friendly, Career Key donates 10% of website sales to charity.