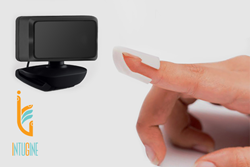 BANGALORE, India (PRWEB) September 09, 2014
Nimble, the gesture control hardware from startup company Intugine, has launched its crowdfunding campaign on the popular website Indiegogo. Nimble's ultra low latency, sub-millimeter accuracy, affordable price, and multiplayer expansions set it apart from Myo, Ring and other gesture control systems. The funding goal for the campaign is set at $50,000 to help further develop and mass-produce the product.
Nimble can be programmed to operate with many existing products, from controlling presentations, to making first-person shooter games highly realistic, and even controlling music and smart-home systems. When Nimble is ready to be shipped, the system will support Windows, Mac, Linux and Android. The Indiegogo campaign seeks to bring the futuristic technology of gesture control into every household with the first affordable option that doesn't sacrifice quality.
The Nimble system will be sold in a package that contains two rings, a USB sensor and software that provides complete gesture control for integrated systems. Nimble rings come in two different shapes for different purposes: Tip will fit the tip of the wearer's index finger and Touch will go down to the base of the finger like an actual ring. Tip should be used when playing games to provide a better gaming experience, while the Touch ring is for long term use for other PC controller and Home Automation purposes. Backers can also buy extra Nimble rings for multiplayer experiences.
Developers will be able to easily integrate their programs to sync with Nimble. Nimble's response and precision make it an ideal control system for virtual reality headsets. By turning fingers into controllers, Nimble pairs well with virtual reality and other gaming because of its high accuracy and ultra low latency. Players are able to use their hands to manipulate the game exactly how they want with very little training or instructions.
While Nimble can be integrated to work with many programs, it also comes equipped with multiple pre-programmed gestures and user interfaces. Controlling movies becomes as simple as waving a hand forward to fast forward, up and down to control volume and tapping a finger to play or pause. Pre-programmed gestures include drawing a "G" to open Google and making an "X" to close applications. Nimble software also includes unique user interfaces specific to Nimble. These allow users to access favorite applications and files by swiping down a dashboard on any screen.
Unlike other gesture control products on the market, Nimble has several features that set it apart. At just $79 a unit for early backers, Nimble's prices are much lower than their competitors' pricing. However, price isn't everything. Nimble also offers unique and superior features and technology. Incomparably low latency makes Nimble's accuracy unbeatable, while Nimble's hardware expansions allow for up to eight users, which is more than any competitor.
To back the campaign and ensure Nimble is funded visit the Indiegogo page at http://bit.ly/intugineIGG.
ABOUT INTUGINE
Intugine is made up of a team of young engineers, researchers and artists working hard to enhance people's experiences with the digital world. Their research and development team is from IIT Kharagpur, one of the best education and research institutes of India. Their product, Nimble, is a result of two years of research on gesture and motion sensing technology. To learn more about Nimble and Intugine, visit their website at http://bit.ly/Intugine.