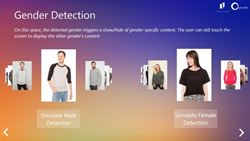 The integration of IntuiFace and Quividi enables the creation of smart, adaptive and data rich digital signs. It is the holy grail of digital signage deployments.
Toulouse, France (PRWEB) May 07, 2015
IntuiLab, provider of IntuiFace, the world's premier interactive experience creation platform, and Quividi, the leading reference in automated audience measurement for digital signage, today announced the availability of a joint solution that automatically collects, blends, calculates and reacts to demographic and engagement statistics, on-screen selections and location-based information of a visitor using a touch screen. This first-of-its-kind solution delivers two key benefits. First, the ability to automatically adapt content - in real-time - to the demographics of the audience. Second, deep, statistics-based insight about users and their preferences.
Built from the ground-up with multi-touch capabilities at its core, the IntuiFace platform enables businesses to create engaging, highly interactive experiences without coding that can be deployed within minutes on any touch-enabled display. These touch-first experiences can incorporate a wide variety of media formats, an open connection to cloud-based data and APIs (including the Internet of Things), a broad range of expressive capability, a powerful trigger/action (aka if-this-then-that) mechanism and all of the core capabilities necessary for successful signage deployments, including analytics. By its very nature, touch-first experiences enable detailed data collection about user preferences and signage effectiveness, the unattainable dream for traditional, passive signage.
IntuiFace now interfaces out of the box with Quividi's proprietary face detection and analysis technology, enabling the creation of smart, adaptive, data-rich digital signs. Quividi's ability to count signage viewers, accurately measure their dwell and attention times, estimate their gender and age ranges, and measure distance and position from the display enables IntuiFace – thanks to its trigger/action mechanism - to dynamically adapt the signage in response. And with the correlation of video analytics with usage statistics generated by the on-screen activities of visitors, retailers gain actionable, data-based insight to the effectiveness of their content.
The joint solution enables any organization to quickly build and deploy interactive experiences that can not only collect a visitor's real interactions (such as most/least popular product/service "touched") correlated with geographic location and other environmental information, but also collect that visitor's demographics and behavior (such as gender/age, headcount, time in front of the screen, etc.) using a simple webcam. And since this anonymously collected data is blended and correlated using timestamps and then made easily accessible via the cloud through Excel or any 3rd party data mining solution, it is highly actionable. Here are just some examples:

Adjust and target content (messaging, products displayed, graphics, etc.) in real time to make signage more relevant and engaging for a given location.
Better anticipate content and aesthetics for new signage.
Test content – e.g. via A/B testing – in a live environment with immediate feedback, broken down by demographics.
Deliver rich campaign reports that measure each step of the engagement process, from awareness to attention to engagement to call to action.
"We are very pleased to bring additional value both to IntuiFace's users as well as to our customers who can now expand their Quividi infrastructure to get to the next level of viewer experience and behavior analysis though the use of touch-based interactive content," added Olivier Duizabo, CEO, Quividi. "IntuiFace offers the unique possibility to take advantage of all elements of the live audience description that the Quividi solution delivers. Creative agencies can now imagine and easily deliver truly personal experiences."
"We are very excited about the integration of Quividi's anonymous face detection technology, lending tremendous additional value to IntuiFace's execution engine and analytic capabilities," said Vincent Encontre, CEO, IntuiLab. "Far beyond standard Web analytics, this combination - unique on the market - enables customers of both solutions to get access to the kind of information that was out of reach until now for digital signage deployments, answering retailers' ages-old prayer for personalized experiences and actionable insight."
The integration is free. Existing IntuiFace and Quividi customers can evaluate it today as described here. Those new to IntuiFace and/or Quividi can evaluate the combined solution by:
1. Downloading a free, time-unlimited version of IntuiFace – available at http://www.intuilab.com
2. Requesting a one-month Quividi demo at http://www.quividi.com
3. Running the sample experience that is explained here
For a list of scenarios to which this joint solution would bring tremendous value, see this article.
About IntuiLab
IntuiLab makes IntuiFace, the world's premier platform for creating, deploying, measuring and managing deeply interactive, connected and expressive digital experiences without writing one line of code. IntuiFace is used b hundreds of companies across 55+ countries to build experiences driven by mobile devices, multi-touch displays, Microsoft Kinect gestures, RFID/NFC readers, the IoT and much more. For any industry – including retail, hospitality, real estate, tourism, education – and for any intent – from digital signs to self-service kiosks and assisted selling.
About Quividi
Quividi provides a real-time video analytics solution that helps media owners, retailers, and brands finely count and qualify their audiences. Using the latest face and body detection technique and standard webcams, the Quividi solution delivers exhaustive metrics on viewers, opportunities to see, attention time, and demographics in a completely anonymous fashion and without ever recording any image or personal data. Located in both California and France, Quividi pioneered the anonymous face detection category in 2006 and is the #1 reference in Digital Out Of Home audience measurement, with customers in over 47 countries and more than 4 billion faces analyzed.