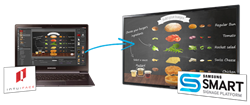 It is estimated that projects built using IntuiFace and the Samsung SSP reduces total cost of ownership by 65% and time-to-deployment by 50% over conventional multi-touch display and content delivery approaches.
Toulouse, France (PRWEB) February 07, 2015
IntuiLab will proudly announce at Integrated Systems Europe 2015 that the latest version of IntuiFace, their market leading platform for creating, deploying and measuring deeply interactive, expressive and connected digital experiences without writing code, now supports the Samsung SMART Signage Platform. This is the first multi-touch signage creation option for the Samsung SSP, enabling businesses to invest in and realize the added benefits of interactive over passive signage. Live demonstrations of IntuiFace in action on the Samsung SSP can be found at ISE 2015 in Samsung's booth, 1-H20.
Built from the ground-up with multi-touch capabilities at its core, the IntuiFace platform enables businesses to create engaging, highly interactive experiences without coding that can be deployed within minutes on any touch-enabled Samsung SSP display. These touch-first experiences can incorporate a wide variety of media formats, an open connection to cloud-based data and APIs (including the Internet of Things), a broad range of expressive capability and all of the core requirements for successful signage deployments such as powerful analytics and scheduling.
The marriage between IntuiFace and the Samsung SSP is rooted in work by IntuiLab to port its patented multi-touch gesture recognition engine to run natively within the SSP's Web browser. The resulting HTML5-based runtime - complementing IntuiLab's previous work on Windows, iOS and Android – enables IntuiFace users and partners to access multi-touch experiences simply by entering a URL in the SSP browser.
The combination of these unique capabilities with the dramatically reduced total cost of ownership achieved by the SoC-based Samsung SSP creates a solution unmatched in the signage market for content creation, cost and speed of deployment. It is estimated that projects built with these two platforms reduce total cost of ownership by 65% and time-to-deployment by 50% over conventional display and content delivery approaches.
"We are delighted to offer our customers true multi-touch capability with the availability of IntuiFace on the touch-enabled Samsung SoC displays," said Vincent Piarou, senior business developer for digital touch signage solutions at Samsung's Enterprise Business Division. "For organizations in search of an affordable, accessible path to creating multi-touch digital signage content – even organizations with no development skills - IntuiFace and Samsung SMART Signage Platform displays offer a uniquely compelling, turnkey package."
"The Samsung SMART Signage Platform has a price point and ease of use that make interactive signage deployments – the natural evolution of passive signage – an obvious choice for businesses of any size," added Vincent Encontre, CEO, IntuiLab. "Thanks to our technology partnership with Samsung, IntuiLab has been able to make interactive signage creation accessible as well. We believe consumers will be amazed at what can be achieved, triggering a significant increase in touch-based Samsung SSP projects."
Multi-touch experiences built using IntuiFace Composer can be published to a public or private cloud storage account and then downloaded and run on the Samsung SSP using IntuiFace Player. This new solution is available on February 10 with both a free option as well as a low cost annual subscription. Composer can be downloaded to a Windows PC and trialed for free without a time limit. Information for getting started can be found here.
About IntuiLab
IntuiLab makes IntuiFace, the world's premier platform for creating, deploying, measuring and managing deeply interactive, expressive and connected digital experiences without writing one line of code. IntuiFace is used by hundreds of companies in 55+ countries to build experiences driven by mobile devices, multi-touch displays, Microsoft Kinect gestures, RFID/NFC readers, the Internet of Things and much more. For any industry – including retail, hospitality, real estate, tourism, education – and for any intent – from digital signs to self-service kiosks and assisted selling.
About the Samsung Smart Signage Platform
The Samsung SMART Signage Platform, available on selected Samsung commercial displays from this year, is an integrated system-on-chip technology that eliminates the need for an external media player. It provides organizations with a streamlined, cost-effective solution to easily deliver dynamic content and messaging to their audience. Featuring a dual-core CPU, full codec video processor, and 4GB or 8GB of storage depending on the model, the SMART Signage Platform supports JavaScript, HTML5 and CSS3, enabling the development of dynamic, customized signage solutions.