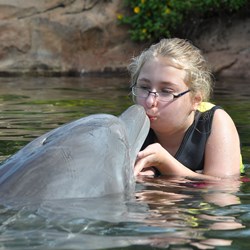 It was a perfect day—a day none of us will forget.
Pittsburgh, PA (PRWEB) February 18, 2014
InventHelp®, a leading inventor service company, partnered with the Greater Pennsylvania and West Virginia Make-A-Wish® Chapter in December 2013 to grant the wish of Lindsey, a local ten-year-old girl with a complicated heart condition requiring multiple surgeries and hospital stays. Later that month, Lindsey and her family travelled from Lower Burrell, Pennsylvania, to Discovery Cove in Orlando, Florida, to fulfill her dream of swimming with dolphins.
Lindsey and her family were escorted through Discovery Cove by Patrick, a dolphin trainer, who started her adventure with a behind-the-scenes tour of the dolphin area. He shared interesting facts with the young girl, who aspires to one day work with animals, such as how he starts his day at 4:00 a.m. to weigh and bucket fish for the 44 dolphins in his care.
After the tour, Lindsey met her dolphin, a gentle 35-year-old male named Akai. She was able to touch and feed Akai and join him in the lagoon for belly and backside rides. Akai and his friend Roxy treated the entire family to foot pushes, in which dolphins push the feet of a person floating on his or her stomach. Lindsey's mom said it was a bit tricky but a huge thrill.
Akai, Patrick, and Roxy were only part of the fun. Lindsey's adventures continued throughout the day, including swimming and snorkeling with thousands and fish and stingrays, touching sharks, feeding river otters, and meeting an armadillo, a pygmy marmoset and an anteater.
In a letter to Make-A-Wish, Lindsey's mother said, "It was a perfect day—a day none of us will forget."
The staff and management of InventHelp are delighted to have been Wishmakers® who helped make little Lindsey's dream come true. The employees held different events throughout the month of December to raise money for Lindsey, including raffling Steelers tickets and donating $20 to wear jeans in the office for the entire month. A number of staff volunteered to help Make-A-Wish raise donations at their annual holiday drive, held at local malls in the Pittsburgh area. InventHelp matched the money raised by employees to meet the amount needed to fund Lindsey's wish.
Last November, excited for her trip, Lindsey wrote a list for a school project of things for which she was thankful. This brave young girl's top three were as follows:
1. I am thankful for God because he gave me an amazing life!
2. I am thankful for my family and friends because they love me for me.
3. I am thankful for Make-A-Wish for making my dream come true!
The InventHelp team is grateful and humbled to have been a part of this inspiring and touching event. The company plans to continue its partnership with Make-A-Wish and help another local child fulfil his or her dream later this year.
InventHelp is a leading inventor service company, helping inventors since 1984. Learn more about InventHelp and their invention submission services at http://www.inventhelp.com/inventor-services.asp. InventHelp, 217 9th Street, Pittsburgh, PA 15222.