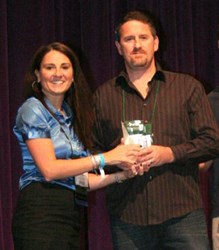 Pittsburgh, PA (PRWEB) November 22, 2013
InventHelp®, a leading inventor service company and INPEX®, America's largest invention trade show, are pleased to announce that previous Canadian INPEX exhibitor, Adam Pauze and his partner, retired Major League baseball player Cliff Floyd, have signed an exclusive retail distribution deal with large, well-known retailer, Canadian Tire Corporation. Since 1922, Canadian Tire Corporation has been one of Canada's most recognized and trusted brands and features more than 1,700 retail and gasoline outlets across the country. The company also currently holds the naming rights to the Canadian Tire Centre, home to the NHL team, the Ottawa Senators.
Pauze exhibited at INPEX 2012 with his invention, The Drywall Axe, a redesigned measuring tape that features a utility knife and a pencil holder. Pauze took home a merit award from INPEX. After being qualified there, a few months later, he exhibited in the InventHelp-INPEX New Product Showcase at the Electronic Retailing Association's (ERA) annual convention, an exclusive show for the direct to consumer marketing industry. It was at that show where Pauze won the "Inventor of the Year" award beating out more than 30 other inventors. Pauze credits both his experience at INPEX and the ERA show as being the help that he needed to get his invention in front of companies. "I personally thank INPEX for helping connect me with companies and industry representatives. The recognition and publicity I received from the INPEX show was invaluable," said Pauze.
Pauze has signed an exclusive distribution deal with Canadian Tire Corporation for his product to be sold in stores, under their Mastercraft Maximum brand. The product is slated to be rolled out in stores in mid-December.
While we are pleased to report that Mr. Pauze & Mr. Floyd have received a distribution deal for their invention, typical inventors do not receive distribution deals for their invention or new product.
InventHelp is a leading inventor service company, who has been helping inventors since 1984. Learn more about InventHelp and their invention submission services at http://www.inventhelp.com/inventor-services.asp.
INPEX is America's largest invention trade show, to be held June 18-20, 2014 at the David L. Lawrence Convention Center in Pittsburgh, Pennsylvania. To exhibit at INPEX 2014, call (412) 288-1300 x4159 for more information or visit http://www.inpex.com.