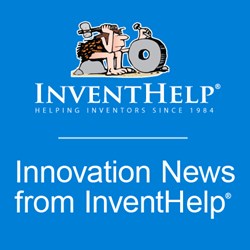 Pittsburgh, PA (PRWEB) February 10, 2014
What were the most innovative inventions of 2013? Where can you find the most fascinating new wearable technology for the coming year? Who had the best new product launches during Super Bowl XLVIII? What new blog will feature this information and a whole lot more?
InventHelp®, a leading inventor service company, has launched an informative new blog, "Innovation News from InventHelp," featuring the latest in original new products and enhancements, product marketing, and business trends. Aimed toward business professionals in the New Product Industry, "Innovation News" will feature articles of interest to manufacturers, new product developers, product marketers, distributors and those looking for licensing opportunities."Innovation News" will be linked to current, existing social media sites affiliated with InventHelp, including Intromark, InventHelp's sister licensing company and INPEX, the largest trade show for inventors in the country. To view the blog, visit http://inventhelp-innovation.blogspot.com.
The most recent blog post features the "must visit" trade shows in 2014 for new innovations. The top of the list in early 2014 is the International Home and Housewares Show in Chicago, the New York International Gift Show and INPEX, the Invention Show in Pittsburgh this June. Then, later in the year, folks can consider the Electronic Retailing Association's annual convention in Las Vegas and the National Safety Congress and Expo in San Diego, both in September. This new innovation blog will continue to update readers on the latest and most recent trade shows to consider.
InventHelp is a leading inventor service company, helping inventors since 1984. Learn more about InventHelp and their invention submission services at http://www.inventhelp.com/inventor-services.asp. InventHelp submits our client's inventions, products or ideas to industry in an attempt to obtain a good faith review. Manufacturers interested in reviewing additional inventions and new product ideas can contact InventHelp's sister licensing company Intromark Incorporated by filling out an online request to review new product ideas at http://www.intromark.com/contactforms/Reg_Databank_Contact.aspx.