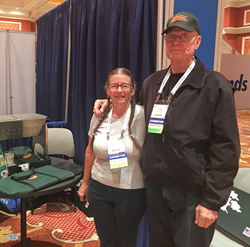 PITTSBURGH, PA (PRWEB) September 16, 2016
The InventHelp-INPEX® New Product Showcase is proud to announce Tracy and Renny Tenney, and their invention, The Flat-Out Backen'®, as the 2016 Inventor of the Year at the Electronic Retailing Association's (ERA) D2C Convention. The showcase was held at the Wynn Hotel, September 13-15 in Las Vegas.
Produced by InventHelp, a leading inventor service company and the producers behind the annual InventHelp INPEX Trade Show, the New Product Showcase gives inventors the rare opportunity to present their products to companies engaged in the direct response television industry. The showcase is a popular staple within the ERA D2C Convention. This annual gathering for the global direct-to-consumer industry consists of three days of high-level networking, business-building sessions and two exhibition floors of companies in electronic and digital direct response. Inventors who are part of the showcase had the opportunity to pitch their products to a panel of expert DRTV judges. The judges picked the Tenneys and the Flat-Out Backen' as 2016's "Inventor of the Year." A stainless steel folding camp grill that is easily portable for cooking outdoors, the product comes with a convenient carrying case for portability and can be used with both wood and briquettes. Visit http://www.flatoutbacken.com for more information.
The top five scoring inventors also had the chance to see their product pitched on stage by professional pitchmen & women in front of a live audience. The other four finalists for Inventor of the Year were:

Adam Wibby, Clean Sponge
Jessica DeRosario and Frank Arceo, MAJIGEEZ
Xavier Clemons, Credit Card Shavers
Freddie Lee, Flip Top Table
"We have partnered with ERA for seven years now to bring the New Product Showcase to the D2C convention," said Nicole Lininger, Director of InventHelp's INPEX. "We feel it provides inventors with the unique opportunity to network with experts and professionals in the direct response industry. We'd like to congratulate the Tenneys on being named 2016's Inventor of the Year."
In business since 1984, InventHelp® is a leading inventor service company, with more than 60 sales offices in the U.S., Canada and abroad. The company attempts to submit clients' invention ideas to industry in the hope of obtaining a good faith review. For more information about InventHelp, please visit the website here or call 1-800-INVENTION.
INPEX is America's Largest Invention Show. Now entering its 32nd year, INPEX is a convention that brings inventors and companies looking for new products together. For more information about the 2017 show, visit http://www.inpex.com or call 1-888-54-INPEX.
# # #