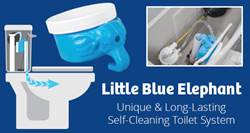 PITTSBURGH, PA (PRWEB) August 26, 2016
InventHelp introduces "The Little Blue Elephant™", a new cleaning accessory that transforms any toilet into a self-cleaning toilet. This self-regulating cleaning system does not require scrubbing or traditional cleaning products.
The Little Blue Elephant is a revolutionary new product that does all the work. Simply refill the cleaning packet 3-4 times a year and the toilet cleaning work is complete. Six ounces of water passes through the installed device, allowing the cleaning packet to slowly dissolve and flow down the refill valve into the toilet bowl. The cleaning solution in the bowl disinfects and constantly cleans with each flush. The high quality durable polymer Little Blue Elephant is 100% safe for all plumbing, toilets, and septic systems, and the cleaning solution keeps the toilet clean for up to 3 months.
The Little Blue Elephant is easy to install in just minutes. To install, insert the filler hose from the tank of the toilet into the Little Blue Elephant's hole in the top of the head. Cut one corner of the cleaning packet to allow water to flow into the packet. Insert the packet into the Little Blue Elephant with the cut corner facing down. Place the trunk of the Little Blue Elephant onto the filler tube with the lid on. Flush the toilet as this will start filling the elephant with water. Once the elephant is full, it will hang by itself and the cleaning process will begin. Suggested retail price: $14.95, plus shipping and handling.
InventHelp® is seeking marketers and distributors in the home and housewares, plumbing, and direct response industries. The Little Blue Elephant is available at InventHelp Store, a website of innovative new products by InventHelp's licensing and product marketing partner Intromark Incorporated. For more information, or for ordering, contact us at 217 Ninth Street, Pittsburgh, PA 15222; call (800) 851-6030 or (412)288-1368; fax (412) 338-0497.
Manufacturers interested in reviewing additional inventions and new product ideas can contact Intromark by filling out an online request to review new product ideas here.
# # #