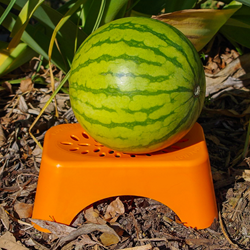 'I've seen fruit in the grocery stores with one side discolored, which is not appealing at all. That fruit is passed over by many consumers and often ends up being wasted.' - Chris Bosse, Inventor of the Melon Saver
PITTSBURGH, PA (PRWEB) March 23, 2015
While this winter season has been brutally cold for many regions with record-breaking snowfall and wide-spread disruption, it's worth remembering that gardening season is not that far away.
And if anyone knows the ravages of cold weather, it's InventHelp client Chris Bosse. The former Minnesota Department of Transportation snowplow operator, however, is now best known for her invention Melon Saver – a support system that protects fruit and vegetables from rotting.
Bosse's invention was recently licensed by Intromark Incorporated, InventHelp's sister licensing company, to NCS Media Group, a company that manufactures lawn and garden products. In addition, due to InventHelp's discretionary services, the company helped Bosse receive price quotes from two manufacturing companies and produced environmental graphics for her display at the Electronic Retailing Association's annual Convention in Las Vegas.
The Melon Saver combines traditional garden growing practices with ingenuity and color. It is a small and sturdy recycled plastic support stand that is light-weight, durable and available in several attractive colors. It measures 8 inches long, 5 inches in diameter and features a grate on its top surface to allow air to circulate around the fruit and also facilitates water run-off without pooling, helping to prevent rot from setting in on your produce.
"I came up with this idea as a first-time gardener after finding all of the melons I had planted had rotted on the bottom," said Bosse.
Simply place the Melon Saver fruit and vegetable supports under the vegetable or fruit when it is still young. The concave surface cradles the produce as it grows. The support can also protect from stem breakage.
"I've seen fruit in the grocery stores with one side discolored, which is not appealing at all," said Bosse. "That fruit is passed over by many consumers and often ends up being wasted."
Bill Ulrich, a former co-worker of Bosse, tried the Melon Saver for his own garden. He found that his watermelons ripened without blemishes. Because of the Melon Saver design, fruit flies, grubs and other bugs are not attracted to the fruit as there's no rotting, which can be common in home-grown fruit.
Now living in Oregon, Bosse has found plenty of uses for the Melon Saver during the growing season and the off-season. When the growing season is over, rinse the stand or use it in the kitchen to keep tomato bottoms from getting squishy, or flip the stand over to rinse berries and other fruits and vegetables.
Depending on what U.S. Department of Agriculture "plant hardiness" zone one lives in, gardeners are already planning their vegetable plots and are eager to get started.
The Melon Saver is currently available for sale at http://www.amazon.com/Nationwide-Lawn-and-Garden-0002/dp/B00TH2VC1S
This inventor has not made a financial gain with their invention. The above results are not typical as most client inventions are not licensed, manufactured, and sold online. From 2012-2014, we signed Submission Agreements with 5,850 clients. As a result of our services, 147 clients have received license agreements for their products, and 23 clients have received more money than they paid us for those services.
# # #