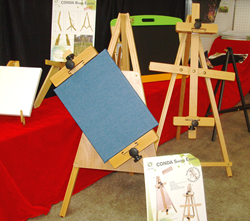 PITTSBURGH, PA (PRWEB) December 08, 2014
Disappointed with existing art easels, artist Robert A. Selwa set out to invent a painting support that would enable the artist to paint in what would be awkward angles with an ordinary easel. The Revolution Easel was the result of his design. Another plus of the product is the ability of handling a composition in a hands-free manner.
"I wanted a more enjoyable experience with less mess, so I designed a rotating easel for artists" said Selwa, who lives in Michigan.
Conventional easels aren't always user-friendly. The Revolution Easel features a top piece that pivots 360 degrees around a pivoting frame and can be positioned at different angles as needed.
In 2013, Selwa approached the CONDA Group, a leading art material supply company, with distributors in more than 100 countries with his newly designed easel. He received a positive response from the company and then chose to enlist Intromark, InventHelp's sister licensing company, to assist in negotiating a license agreement on his behalf.
After daily conversations between Intromark and CONDA that began in August 2013, terms were agreed upon the following month. CONDA Group and Intromark agreed upon worldwide rights. This inventor will also receive royalties.
For more information about purchasing the CONDA Swing Easel (Revolution Easel), please contact Intromark's Licensing Director, Chris Rosleck at CRosleck(at)intromark(dot)com or 412-288-1300 x1887.
This is one individual success. Only a very small number of inventions are licensed and sold. The inventor has not made a financial gain.
From 2011-2013, we signed Submission Agreements with 5,252 clients. As a result of our services, 144 clients have received license agreements for their products, and 24 clients have received more money than they paid us for these services.
InventHelp is a leading inventor service company, helping inventors since 1984. InventHelp submits our client's inventions, products or ideas to industry in an attempt to obtain a good faith review. For more information about InventHelp services, call 1-800-INVENTION. InventHelp, 217 9th Street, Pittsburgh, PA 15222-3506
# # #