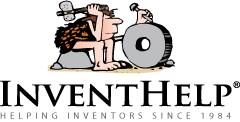 Pittsburgh, PA (PRWEB) December 31, 2013
InventHelp, a leading inventor service company, announces that one of its clients, an inventor from Australia, has designed a modified thong sandal that would prevent the sandal from slipping off of a wearer's foot. This invention is patented and a prototype is available.
The "Strappy Thong" would fit on the foot more securely and doesn't slip from the foot while the wearer is walking. The invention addresses the possibility of injury often associated with conventional loose footwear and promotes comfort in an aesthetically-pleasing design. The invention would enable the individual to put on and take off the sandal in a hands-free manner and is ideal for beach-goers. The Strappy Thong could be produced in various sizes and colors.
The sandal would be produced from injection-molded rubber, and would resemble a conventional thong sandal, featuring a thong at its front end but would also include a diagonal, arched strap at the rear end of the sandal. This strap would allow a user to slip his or her foot into the sandal easily, and would secure the sandal to the foot.
"I wear thong sandals regularly, so I've noticed a design flaw in them," said the inventor. "They tend to slip off of the feet because they lack support in the heel area of the foot. To solve this problem, I designed a modified thong sandal."
InventHelp is attempting to submit the invention to companies for review. If substantial interest is expressed, the company will attempt to negotiate for a sale or royalties for the inventor. For more information, telephone Dept. 11-SYY-294 at (800) 851-6030.
Manufacturers interested in reviewing additional inventions and new product ideas can contact InventHelp's marketing partner Intromark by filling out an online request to review new product ideas here.