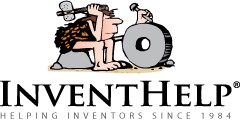 Pittsburgh, PA (PRWEB) November 08, 2013
InventHelp, America's leading inventor service company, announces that one of its clients, an inventor from Florida, has designed a trash liner that features an adhesive-backed plastic piece that goes on the outside of a garbage can, as well as an attached lip that secures the bag to the top of the container. This invention is patented.
"Bag Grip" could prevent the mess and inconvenience associated with trash bags spilling into a garbage can. The invention could maintain a neat, clean look for a kitchen or other area. The accessory keeps the bag open for easy filling and allows for use of the entire bag. Bag Grip would be easy to attach and remove. Additionally, the invention could be used on lipped-type or straight-rimmed receptacles.
Bag Grip liner holder would consist of a square plastic anchor attached to a plastic clip via a thin wire (a thin and flexible, cord-like material can be used in place of wire.) This variation could be designed for use on trash receptacles with no lip (and for industrial and commercial-types/sizes of containers.) The cord or wire would measure approximately 4 inches long. The clip would measure 3- to 4 inches in length, ½-inch tall and ¼-inch thick. A tooth would be located on one inner wall of the clip to keep the bag from slipping. The anchor features adhesive on one side and would be covered in a peel-away backing. To use, an individual would attach a pair of clips (one on each side) to the top of the receptacle to secure the liner. The user would then remove the backing from the plastic anchors and attach them to the sides of the can. The anchors would prevent the clips from being lost would be installed in this location to limit visual exposure. Bag Grip could be producible in a home-use variation, as well as in a variety of colors.
InventHelp is attempting to submit the invention to companies for review. If substantial interest is expressed, the company will attempt to negotiate for a sale or royalties for the inventor. For more information, telephone Dept. 09-BMA-3650 at (800) 851-6030.
Manufacturers interested in reviewing additional inventions and new product ideas can contact InventHelp's marketing partner Intromark by filling out an online request to review new product ideas here.
# # #